By Stephen Kangal, Caroni
October 19, 2009
www.trinidadandtobagonews.com/blog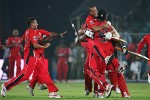 That the Almighty God is a born Trinbagonian has been established irrefutably time and again. Connecting to Him via TSTT is billed as a local call in Caroni. I cannot say the same for elsewhere since I do not know.
Here is Mother T&T (Dharti Mata) fossilized and embedded in the rock of a creeping and arrogant administration. They daily unleash waves and waves of punitive fiscal measures against a people permanently under siege from the forces of evil and darkness. We are facing a bleak status quo and a cancelled future. But God does not and cannot sleep especially when Trinis are in trouble.

By divine intervention and pushed to scale and attain the cosmic limits of leather and willow, our Chutney Soca Cricketers smashes the glass-ceiling of the cricket-crazy Indian Professional League (IPL). They have reincarnated and revitalised the hitherto fading institutional memory of the halcyon days of West Indian cricket supremacy. They have now set the cricketing world ablaze with great expectations because world cricket is and cannot be the same without the explosively brilliant, awesome and scintillating performance of the West Indian mould.
All T&T and the Caribbean are united, cohesive, utterly patriotic and frozen in ecstasy. We deal in boundaries —not singles. We have forgotten our adversities albeit temporarily until the effects of this moment of complete transfiguration begin to fade. We will label this moment in time and cosmic space. Only then will we return to earth from being transported on a wave of euphoria to the ephemeral bourne of heaven. There moments last forever.
We have over-night become a praying people for our Team. This Team is the avatar (Divine incarnation). It is consecrated to be the human instrument and selected to mitigate and expiate our troubles and suffering by its pyrotechnics. We have been led back to paradise regained in T&T/Caribbean once more.
The immortal and global cricketing legacy artistically sculptured and etched in our memory by Prince Brian Lara, now haunts and re-possesses once again. That was the underlying spirit that was on display in full regalia in Hyderabad and at the Chinaswammy Stadiums.
This Team left us unsung and unheralded. Not a pulsating drum was heard at Piarco. They have now exploded as a ballistic, leather-seeking missile on the world stage of 20/20. They have immediately captivated and seduced the minds and hearts of a billion Indians, millions of West Indians and Commonwealth citizens. Atlases showing the tiny but green and serene emeralds islands of T&T have run out in Indian bookstores.
Never in the annals of the game of cricket has so much delight been served up to billions of cricketing fanatics and aficionados world-wide by a Team representing millions of loving and creative Caribbean and Guyanese people.
Well done Ganga and your men! May Ganga Maiya be with you on Thursday and charm and neutralise the invasive and poisonous fangs of the Cape Cobras/Bush Vipers into voluntary submission. Make them kneel before you. Let them the vanquished pay obeisance and homage to you the victorious giant -killers of the Caribbean for their intransigence in daring to even take the field with you in face of the latest surgical annihilation and total pulverization of the attack of the South African Diamond Eagles.
Trinidad and Tobago News Blog's URL for this article:
www.trinidadandtobagonews.com/blog/?p=1765