By Linda E. Edwards
January 20, 2007
Re: Marion O'Callahan's Commentary in Newsday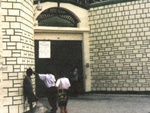 There are two additional ways we do not want, definitely do not want, to follow the U.S. prison system.
1. The building of private prisons to be leased to the state is one of them. In this system – example Corrections Corporation of America – (check the U.S. stock exchange for trading values), shareholders get together and build a prison. Now for the shareholders to make a profit, just like a hotel, the institution has to operate at maximum efficiency. That is full or almost full. So shareholders have a vested interest in keeping these prisons full.

The shareholders are mainly sheriff's deputies, policemen and prison wardens. I have not heard of a judge having shares, but you never can tell.
Now, it costs $40-$50 to incarcerate an adult for a day. It costs about $80 to incarcerate a juvee (juvenile) for a day, so the juveniles are more profitable to the shareholders. Is it any wonder then, that there is interstate commerce in prisoners, that the jails are full to overflowing, and it is possible to go to jail for unpaid traffic tickets? (These were figures supplied by the Rev. Jesse Jackson during the election campaign in November, 1994 so the figures are much higher now.)
2. The incarceration of women and their children in immigration prisons is another scandal. Mostly Latin American, these women are mothers of U.S. born children, born while the mother was here illegally. They are rounded up and jailed, pending deportation, with two or three kids trailing behind them. What opportunities are there to walk the straight and narrow, when you are a prisoner at age two? What other country in the world jails children? What opportunities are there for the sexual exploitation of these children within the prison system?
Mr. Kerik and his crime prevention cronies might be interested in selling tasers to the Trinidad police. This has to be avoided. Tasering induces heart attacks and is a video game type spin off of the cattle prods once used by southern lynchers against African Americans.
These merchants of international torture see only one colour – green, the colour of money.
Wherever the U.S. sinks its talons, the number of guns, and the amount of violence goes up.
You might wonder why that is. Go to history, and see who was deported from Europe to settle America – the criminals. This is why the society is so brutal, and why places that come under their hegemony, become brutal places. They export guns, crime fighting methods and foster a criminal society by so doing. People will not try other methods of social change if guns can settle the score. They are easy, deadly and spiral more death.
America has a lot that is worthy of emulation – its belief that their is an educational program for every child is one, the amounts of money spent on making life easier for the differently abled is another. The optimism and charity of its people is a third, but, we do not need to imitate its prison and policing systems.
Racism infested it long before Civil Rights tried to cleanse it, and it is still a corrupt system. This is why Amnesty International was investigating them a few years back, and the inordinate number of executions practiced in Texas is now an issue before the Supreme Court.