By Stephen Kangal
October 01, 2009
Trinidad and Tobago News Blog
www.trinidadandtobagonews.com/blog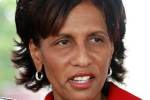 It is palpably unsettling to witness the pathetic display of Ministers in the Ministry of Finance (not for the first time), Minister Imbert and including Local Government Minister Hazel Manning attacking with full force the credibility and integrity of Finance Minister Tesheira's "done deal" property tax. This tax reinforced by Finance Ministry vaulting- ambitious aspirants may very well hasten her imminent political waterloo because she has now been relegated to cold storage. She does not speak on her draconian fiscal measure any more. She has been muzzled.

But I like Karen very much. She is doing well post-Russel's untimely demise and displays the strength of character associated with motherly resilience. She is like vintage champagne — sparkling, fragrant, bubbly and effervescent in her antics and her delivery in and outside the House. Talking of House she is now declared persona non grata in the Senate with Enill and Browne militantly guarding the portals hoping for her to be axed and not her outlandish and draconian property tax.
On the very Friday morning that she indicated that there was no "backing down" another Finance Minister, Mariano Browne in winding up the Senate debate on the Budget discredited Tesheira's "done deal" position by indicating that the budget proposal merely signaled Government's intention of tax reform. It was not cast in concrete. It will be now brainstormed with the population nation-wide. A White Paper or Bill would be introduced in Parliament. Accordingly there is no 1 January 2010 introduction date.
In that very day in the Senate Senator Enill had given earlier an outlandish revenue estimate of $87m based on his now irrelevant 2004 property values — not the new 2009 high rental values. He said that total property tax intake will be reduced below $75m in 2009/ 2010. In a conversation with him today he has since revised that figure of tax revenue to $325m. It was a tax reduction measure he said because according to his maths $75m is greater than $325m. T&T is to be fooled and deceived. He ignored that house/land tax contributed $125m in 2008 all of which was squandered in one fell swoop to liquidate the expenses of renting the two luxurious cruise ships for the Summit largesse when the money had no yet run out.
The four-tiered, 2010 property tax will be calculated on 3% of the prevailing very high 2009 rental values (now said to be the 2004 values) of houses less 10%, 5% of the rentable value of commercial properties, 1% of capital values of land and 6% of the cost of industrial plant and machinery — not on Minister Enill's red herring's 2004 property values. Property values will play no role. But they can now use the 2009 rates in 2010 and realize a huge windfall in the 2010/11 fiscal year and further pauperize us to fund their wild spending in trivialities and incur huge cost-overruns. The billion dollar gobbling Special Purposes Companies are a siphon connected to the Treasury in a one way line.
Those Ministerial dictats are contrary to Minister Tesheira's latest revenue estimated of $750m based on 2009 rental values (ART). It is to finance local services but collected by Central Gov't — not local regional corporations. Expert and qualified property valuator Afra Raymond's conservative property tax revenue is $1bn and rising. Mine is over $6bn and has been explained publicly and in the media.
Minister Hazel Manning insists that it is the T&T Revenue Authority that will collect the tax and not Minister Tesheira's BIR.
No Minister mentions, speaks of nor supports Tesheira's 300,000 properties that do not pay taxes at present. That will be selling guns to the Indians.
Another body blow directed at Minister Tesheira is the Statement made by Minister Colm Imbert that the Rapid Rails had not been shelved although Minister Tesheira said so during the post Budget discussions.
This conflict within the Cabinet when PM Manning was in the UN trying to salvage his declining image at home, the conflict with respect to the UDECOTT inquiry, the revelations of Messrs Valuations Divisions officers, Thompson and Scobie in the Big Story on Monday on the mechanics of the property tax and the lack of certainty by Ministers in their declarations on the property aka the poverty inducing tax leave us all in a quandary and confusion. We now panic on our future prospects to hold property and quietly enjoy this Constitutional right.
Which of these spin/aka doosra doctors are we to believe because they are double speaking, contradicting, groping in the dark as headless chickens and the plot thickens daily.
Trinidad and Tobago News Blog's URL for this article:
www.trinidadandtobagonews.com/blog/?p=1675