Trinidad and Tobago News Blog
www.trinidadandtobagonews.com/blog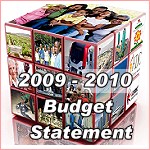 The text of the 2009-2010 Budget Statement as was presented in the House of Representatives on Monday, September 08, 2009, by the Minister of Finance the Honourable Karen Nunez-Tesheira.
Mr. Speaker, it is a distinct privilege to present to this Honourable House and to the people of Trinidad and Tobago the 2009/2010 Budget. This is the second budget of this Administration in which we continue to implement a progressive programme of development intended to improve the quality of life of our nation's citizens.

Mr. Speaker, it is almost impossible to personally thank all the people whose ideas and advice have helped to shape this Budget. However, a very special word of thanks is due to the officers in the Ministry of Finance whose professional skills, patience and patriotism led to the preparation of documents laid before this Honourable House today. I wish also to thank the many individuals and organizations who contributed a slate of ideas which served to inform the Budget. My profound appreciation is also extended to the Honourable Prime Minister and my Cabinet colleagues who share with me collective responsibility for the integrity of this Budget.
Full Budget Text : trinidadandtobagonews.com
Related Articles:
Keep Babies, and Toddlers Safe
Government yesterday launched a major crackdown against traffic offenders by imposing a range of hefty new penalties against them in its $44 billion Budget for 2010.
Big Fines for Drivers
$44.3b budget on US$55 oil price
Tint fines for Govt drivers
Drivers of heavily tinted National Security vehicles may also face the new fine of $2000 introduced in the 2010 Budget, Finance Minister, Karen Nunez-Tesheira said after her presentation yesterday.
Inshan: Transfer tax issue no big deal
President of the pre-owned Automobile Dealers' Association, Inshan Ishmael, says the 50 per cent increase in motor vehicle transfer tax, announced during the 2009/2010 budget, will not affect motorists in any way.
Budget on board
FINANCE Minister Karen Nunez-Tesheira in her Budget speech yesterday announced several tough measures to try to curb recklessness by errant motorists. We were particularly heartened by her promise to bring a new law for the protection of young children travelling in motor vehicles. She vowed, "The Government will bring legislation to this honourable House to make the use of child restraints mandatory for children five years of age and under."
Economist: US$2.75 gas price too high
THA's London pleased with $2.7b
Kamla sees no hope for citizens
Bankruptcy says Dookeran
Leader of the Congress of the People Winston Dookeran is describing the 2009/2010 budget as one of bankruptcy.
There was a lot of fluff, says Dookeran
Panday: Budget is shameful
Opposition Leader Basdeo Panday yesterday described the 2009/2010 fiscal package for the country as the most shameless budget he had ever heard.
Chamber: Just a continuation
The Trinidad and Tobago Chamber of Commerce has described yesterday's 2009/2010 budget as a "continuation of previous budgets".
Another promise of NCEC start
Since the demolishing of the Grand Stand in the Queen's Park Savannah in 2006, construction work on a National Carnival and Entertainment Centre (NCEC) has been promised to commence each year.
National Security gets $4.1 billion
THE National Security Ministry was allocated $4.1 billion in the 2009/2010 Budget, an increase of $263 million as announced yesterday by Finance Minister Karen Nunez-Tesheira.
More taxes on alcohol, tobacco
Smokers, drinkers blue mad
THE announcement of a 15 percent increase in cigarettes, tobacco and alcohol has come under heavy fire and criticism from citizens in Port-of-Spain shortly after Finance Minister Karen Nunez-Tesheira completed her three-hour 2009/2010 Budget presentation.
Karen: Fiscal plan to boost economy
Trinidad and Tobago News Blog's URL for this article:
www.trinidadandtobagonews.com/blog/?p=1583