By Derren Joseph
August 11, 2009
www.trinidadandtobagonews.com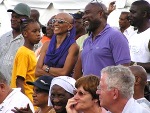 Last Saturday, there was a fun-run from the Queen's Park Savannah in Port-of-Spain to Maracas Bay. I only found out about it the Wednesday before, but I instantly knew I had to do it. The chance to experience the rising sun while running along the North Coast Road is something I could not turn down–even though it meant missing the regular 7-8 mile Saturday morning run with the Mall Crawlers (our running group). It exceeded my expectations. When driving along the North Coast Road, the view is amazing enough, but to savour it while running slowly along the road is truly memorable.

The sounds of the birds, the aroma from various herb/vegetable gardens… Wow! The event was organised by Whitehall Striders, or as my friend Lisa calls them, "The old fellas who walk up Chancellor." I'm guessing that there were easily over 100 people, including children my son's age, as most people walked. Kudos to Whitehall Striders! I eagerly look forward to the next run to Maracas Bay. As I approach 40, I become more conscious of the need to take care of my health. I remember when I did not need to warm up before a run or before a gym workout. Now, to miss a warm-up means my risking injury. I remember when I could eat whatever I wanted. Now, I need to be careful with what I eat, given the various health risks from poor eating habits.
Under the pillar of a caring society, the Vision 2020 document speaks to the issue of improved healthcare, wellness and lifestyles. It notes: "…Wellness should be about more than disease management, but about a lifestyle that lends itself to prevention. Urban and rural communities need to have adequate sporting and recreational facilities to cater to different interest groups: the amateur, the professional, children, senior citizens, young adults and the differently-abled… Communities should use the services of congressional budget offices, NGOs, schools and individuals to organise community sporting and recreational activities. As a result, there would be greater social cohesion, along with increased levels of health and wellness in communities." Ideally, healthcare is more than getting in shape for that Tribe or Spice costume; it is a way of life.
My fellow Mall Crawler and certified trainer, Simone Gonzales, quotes the ACSM (American College of Sports Medicine) and AHA (American Heart Association) in recommending that we should: "Do moderately intense cardio 30 minutes a day, five days a week; or do vigorously intense cardio 20 minutes a day, three days a week. In addition, we should do eight to ten strength-training exercises, eight to 12 repetitions of each exercise twice a week." My friend Bose, however, does not believe in strenuous exercise. Bose is mature and in his youth, he played many sports which laid a sound, healthy foundation. Today, his exercise takes the form of walking as he does his job, and the occasional ball game—gently does it! Bose likes to say that all the healthy need to do to stay healthy is after an active youth, to eat varied diet, enjoy good marital relations, and keep an eye on the future. Living on this beautiful island, we have every reason to get out, enjoy our blessed land, and keep fit.
Vision 2020 goes on to say that "health education must be promoted, so that citizens recognise the lifelong benefits of good nutrition, involvement in regular recreational or sporting activities, and the avoidance of high-risk social behaviours." On this subject of health education, my old friend from St Mary's College, Darren Dookeram, was sharing with me that his organisation, Trinidad and Tobago Medical Association (TTMA) is embarking on an outreach programme. Darren explained that next Sunday, August 16, the TTMA will be at Brazil High School Auditorium from 10 am to 3 pm. Aside from Brazil, targeted areas also include Talparo, Mundo Nuevo, Las Lomas, Cumuto, Tamana, La Horquetta, El Quemado and San Rafael.
The TTMA intends to offer a series of short lectures, including foot care for diabetics, cancer prevention for women, and good health during pregnancy; A carousel-style screening area, with options that include vision, dental and hearing; free consultation with specialties that include internal and family medicine, OBGYN and paediatrics; and counselling. For more information, please ring the TTMA on 671-7378. As always, I end by saying that despite our challenges, we are so blessed to live in this beautiful country.
Trinidad and Tobago News Blog – URL for this article:
www.trinidadandtobagonews.com/blog/?p=1364