By Stephen Kangal
March 23, 2020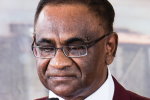 We must take into judicious account today that The People's Republic of China (PRC) with whom T&T enjoys cordial and mutually – beneficial fruitful diplomatic and trade relations is afloat and awash with a huge windfall of trillions of hard currency US dollars silos derived from unending trade surpluses realised especially with the USA and increasingly with the rest of the World.

The PRC now has adopted a deliberately accelerated global trade and investment expansion foreign policy with its trillions to dominate contemporary trade with the rest of the world. It is this that keeps the Chinese economy so buoyant, growth-driven and resilient that it can bring the world economic welfare to a halt as the COVID-19 pandemic is amply demonstrating to our collective detriment and sorrow.
We must also seriously consider and appreciate that some cultural practices taking place in the PRC have been impacting quite disastrously on countries beyond its borders with firstly the Hong Kong Flu, H1N1, SARS and now the dreaded Covid-19 through permitting distasteful and dangerous culinary practices based on sordid and widespread wild live animals consumption. Its recent ban on this practice is further confirmation of this deep connexion to COVID-19.
The current COVID-19 pandemic is alleged to have originated in the epi-centre of the Wuhan Provincial wild animal market in the PRC. It is this plague that is causing huge and astronomical loss of wealth, human lives and suffering as well as stress and loss of confidence globally that has imposed an unprecedented virtual global curfew and shut-down.
The world is virtually closed for business and so are our schools. The response to this rapidly spreading pandemic is an unprecedented, swift and all-inclusive quarantine in our homes.
Beijing has the capacity to pay and must pay.
We must initiate and vociferously call upon and lobby The Socialist Government of the People's Republic of China through its various Overseas Missions with a view to obtaining reparations for the COVID-19 generated astronomical losses suffered by countries to which these Missions are accredited including the struggling Caricom countries.
These Chinese Embassies and consular agents must positively recommend to Beijing that adequate and effective compensation and reparations be immediately paid and disbursed as required by the tenets of international law to the plaintiff disadvantaged international community of nations.
This for carelessly unleashing for the fourth time in a row this biological catastrophic disaster from areas located within its sovereign territory on the rest of the world. This pandemic that has dislocated life globally is also resulting in agonising stress and trauma in a virtual doomsday armageddon that is fraught with enormous uncertainty as to where and when it will start to abate and who will die?
Let us pray that the Cuban immunity-boosting drug (Interferon alfa-2b) can bring some much- needed respite to our flagging fortunes from this PRC-originating biological disaster.
The Chinese cannot get away scotch-free at our collective loss and damages suffered from this Chinese-originating "biological weapon of mass destruction" that is in fact creating a huge market for Chinese-Cuban made pharmaceuticals. They must donate the drug freely.
Beijing must be made to pay for inflicting this international tort on an already-depressed and unsuspecting world economy.