By Raffique Shah
March 02, 2020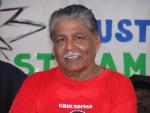 Fifty years after the Black Power Revolution shook Trinidad and Tobago's foundation, many people, mostly older folks, are trying to quantify what benefits, if any, were derived from those tumultuous events. In contrast, younger people have no idea that anything significant happened in 1970, nor are they interested in our history. Hell, they have little or no interest in history as a subject, far less in local history.

The maxim "if you don't know where you've come from then you won't know where you are going", means nothing to today's cyberspace generations. So my generation, which crafted and to a great extent executed the events that constituted what we saw as a revolution, might as well spare ourselves the trauma of remembering and reliving "The Revo" every year, as much as we may think we have made a contribution to our country.
Most of us will agree that if what we participated in was indeed a revolution, it was incomplete. But it's not as if we can throw aside our walking sticks or wheelchairs and seek to address the unfinished business from so many moons ago. True, we kindled black consciousness among Africans in the society who had all but forgotten their roots. And we placed on the national agenda ownership and control of the commanding heights of the economy (fancy words there). Hell, we even restored pride to many Indians who had earlier surrendered to the deleterious effects of colonialism, sacrificing their identities, names, cultures and religions on Massa's altar of the Great White God.
During those 50-odd days of wrath between February 26th and April 20th 1970, large swathes of the country were engulfed by the fires of revolution as we, the bulk of us no more than 25 years-young, some much younger, acted out the romanticism of fighting to liberate our country from the jaws of neo-colonialism, the long reach of imperialism.
Our fertile imaginations had been fired by the writings and speeches of heroes such as Malcolm X, Stokely Carmichael, Che Guevara, Fidel Castro, Walter Rodney, Martin Luther King. We were dazzled by the charisma and lightening-fast fists and feet of the greatest boxer ever, Cassius-Clay-turned-Mohammed-Ali, who stood like a giant in the ring and outside, condemning racism in America and defying Uncle Sam's call-up to fight an unjust war in Vietnam. Ali never wavered when he was stripped of the title and faced imprisonment for refusing to go to war. "No Cong ever called me nigger!' he said, "Cong" being the Vietnamese fighters.
Uncle Sam sacrificed the lives of tens of thousands of mainly poor American young men in a war it could never win: The most powerful military in the world was humiliated when, in 1975, its last flight of helicopters fled Vietnam, its defeated troops in disarray. Ali was vindicated, but the cost of the war in human lives and material was huge.
Such was the calibre of men who inspired us, whose life stories were required reading in soldiers' barracks, in school compounds, under street lamps at nights. In depressed communities where nowadays teenagers learn to use guns against each other, during the revolution, university students would tutor poor children in their academic work, then fortify them with a discussion on a book or other topic of the day. The brothers, meaning every male in the struggle, respected the sisters, and everyone, even children, and especially older people, felt safe walking the streets of East Port of Spain, Laventille, Morvant—in fact anywhere in the country.
There were protest demonstrations every day, sometimes two, three simultaneously, in different parts of the country. There were mass public meetings day and night. Woodford Square was renamed "The People's Parliament". Issues of national importance were raised and debated at such meetings. Attendance ranged from 3,000 or so in the Square to a full 25,000, while the demonstrations had similar numbers.
When a stupid police corporal shot the unknown Basil Davis dead just outside the Square, he unwittingly made a martyr for "de Revo". Davis' funeral on April 9th extended from POS to San Juan, where the body was interred. Attendance estimates ranged from 30,000 to 100,000. Secondary school students had by then joined the ranks of the protestors. Hundreds of people left their homes each day and reported to the Square, not their jobs.
Initially, those who participated in the revolution comprised mostly young, unemployed Afro-Trinis from the capital city and its environs. By mid-March, small Black Power groups from rural towns and villages joined to show their support. These came from districts such as Arouca, Arima, Point Fortin, Sangre Grande and even Tobago. Then trade unions like the OWTU and TIWU openly identified with the umbrella National Joint Action Committee. And other workers whose unions stayed aloof of the mass movement also joined.
The only important link that was missing from the sea of protestors was Indo-Trinidadians. NJAC's foray into Central Trinidad on April 6th, under the banner "Indians and Africans unite" had yielded much goodwill and hospitality all along the Indo-dominated route. But Chan Maharaj from Arouca, who headed the misnamed National Freedom Organisation, was still the only Indian on the podium.
That was set to change on April 20th with strike action by most workers in the vast sugar industry, who also happened to be mainly Indians, and who would defy the notorious Bhadase Sagan Maharaj, their union leader, who had openly called on Prime Minister Dr Eric Williams to stamp out the mass movement—as if that was possible.
Therein lay the seeds of "unfinished business" that Catholic Archbishop Jason Gordon referred to in his homily at the Cathedral on Ash Wednesday. I see it as an "incomplete revolution", and I shall focus on it in the weeks ahead as we mark the 50th anniversary of Black Power.