By Stephen Kangal
May 01, 2019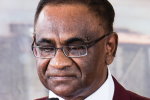 It is patently clear that Prime Minister Rowley grabbed the quite innocuous, viewed from a local context, but attention-attracting Sat Statement and attempted to clothe it with the now infamous Calcutta Ship robes geared to arrest the declining support for the PNM in Tobago from the rise and rise of the Duke factor.
It was engineered to achieve the same electoral result as Sandy's 2013 Statement and to nip the incipient electoral fortunes of Minority Leader Watson Duke in the bud.

PM Rowley did not see it fit to assess the statement of Sat carefully as being made by a national/organisation protected and legitimsed by Articles (4), (e) and (i) of 1976 Constitution. He proceeded to derive cheap maximum political mileage geared to shoring up the two crucial Tobago constituencies in the 2020 General elections that now appear to be increasingly in doubt.
In addition to the Tobagonisation of the Sat view there is incredible talk of building a Roxborough Hospital against all odds. The PNM rubbished the value of the modern Couva Children's Hospital saying it was for their (UNC) people in Couva and not all of T&T as a specialized children care facility.
The Road to Toco is for the people of Tobago and Toco.
The sin committed by the PNM in denigrating that Hospital for Children and playing political games with its commissioining will haunt it as an albatross around its neck because God does not sleep where children's welfare is concerned.
The exaggerated response by Prime Minister Rowley of the intervention by Sat was such that Police invaded the Jagriti (CBS) Studios to gather information pursuant to a potential charge of sedition without the due diligence being undertaken. It brought the TTPS into odium and disrepute. GG's conduct towards (soorhawaying in Bhojpuri) Buju accorded more importance to the concerns of the people of Jamaica than of us in T&T.
Rowley himself admitted that he was reading the Jamaican newspapers' reports and pandering to them with little concern for T&T.
Seditious behaviour!
This is the most handicapped, juvenile, divisive and arrogant government that T&T has ever witnessed