By Peter Christopher
April 16, 2019 – guardian.co.tt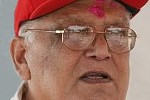 Sanatan Dharma Maha Sabha secretary general Sat Maharaj remained defiant yesterday in the face of a furore over his contentious comments about the people of Tobago and a call from Minority Leader Watson Duke to apologise or face a hate campaign.
"I have intentions to respond to Watson Duke and the critics, I will reply at a time of my own choosing and the medium of my own choosing," Maharaj said when contacted for comment hours after Duke called for an apology.

Maharaj, however, stood by his statement, saying it was the truth but said his response would come "after the season of goodwill is over."
Maharaj drew the ire of many after he attacked Tobagonians during on his TV Jagriiti programme on Monday.
"Nothing going correct in Tobago; they're lazy. Six out of ten of them working for the Tobago House of Assembly, getting money from Port-of-Spain. They don't want to work, and when they get a job, they go half past nine and 10 o'clock they go for breakfast," Maharaj said during the programme.
He also suggested that other able-bodied Tobagonians who were lazy preferred to only run crab and goat races and target white women on beaches whom they robbed and raped.
A clip of Maharaj's comments was soon shared on social media, prompting angered responses on those platforms.
Full Article : guardian.co.tt