Two students detained over campus chaos
By Shane Superville
October 19, 2018 – newsday.co.tt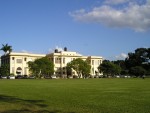 TWO students of the University of the West Indies (UWI), St Augustine campus are now in police custody after they were arrested yesterday for their roles in a heated students' protest at the campus' south gate over an increase in assaults and robberies at the university. The confrontation started around 1.45 pm and ended shortly before 4 pm.
The demonstration, which began as a town hall meeting for students of the UWI's Student Activity Centre sought to address the concerns of the students over a reported lack of security at the campus, descended into chaos when students blocked the gate and resisted campus security, administration officials and police.

Several students expressed their frustration over the crimes said they were disappointed in members of the campus' administrative staff absence from the meeting, this led the students to leave the meeting and block the gate to express their dissatisfaction.
Close to 500 students formed a human barricade around the gate preventing the passage of vehicles in and out of the compound and despite several attempts by UWI's campus security to disperse the crowd, they were unsuccessful. At one point a vehicle attempted to leave the campus, by driving up against the students, but were later instructed by security to use another gate as the students refused to disperse.
Full Article : newsday.co.tt