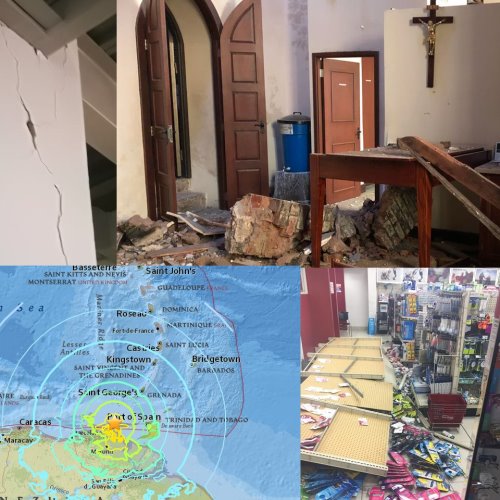 Caribbean rocked by 6.9 quake
By Corey Connelly
August 22, 2018 – newsday.co.tt
A MASSIVE earthquake, magnitude 6.8, yesterday rocked TT, sending the country's 1.4 million citizens into a tailspin and damaging several buildings in and around Port of Spain, and other parts of the country.
The earthquake, believed to be the largest ever in the country's history, was reportedly felt in several other Caribbean islands, including Grenada, St Lucia and St Vincent and the Grenadines, as well as Guyana and neighbouring Venezuela.

There were no immediate reports of fatalities in TT, but the tremor, which occurred around 5.30pm and reportedly lasted for about two minutes, during the rush hour, left many people shaken and scared for their lives and that of their loved ones.
In Port of Spain, hundreds of workers rushed out of their workplaces to designated muster points, fearing the worst, as others wept, acknowledging it was the worst earthquake they had ever experienced.
Full Article : newsday.co.tt
~~~~~~~~~~~~~~~~~
Seismologist warns of aftershocks
This was the warning yesterday from seismologist Dr Joan Latchman, following a 6.9 earthquake that rocked Trinidad and Tobago and much of the Caribbean.
Biggest quake in two centuries
"While there have been 17 previous M6+ earthquakes in this region, large earthquakes are rare; this is the largest historic event within 250 (kilometres) of this location in the 20th and 21st centuries".
Panic at PoSGH during earthquake
TERRIFIED citizens were taken to the Port of Spain general hospital yesterday in the aftermath of the earthquake which shook the country and other Caribbean islands, and were admitted for panic and asthma attacks.