By Stephen Kangal
May 28, 2018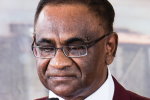 Trinbagonians who relished the opportunity during their much anticipated visits to Britain to shop for the St Michael's brand of quality clothing, lingerie, men's wear and pre-cooked food will be disappointed with the news that the flag-ship of high street – retailing, the iconic Marks and Spenser (M&S) is in terminal decline and will be closing over one hundred stores to survive the competition from smaller leaner retailers as well as from the rapidly changing palate for fashion of the young and cost conscious shoppers.

M&S is indeed a celebrated British institution equal in stature to the new improved Royal Family. It was established in 1884 by a Polish refugee Marks and an English partner Spenser. It catered for the bulging English and indeed Commonwealth middle classes mainly in the age group 30-80. Just as the Royal Family had to recalibrate itself at the recent Royal Wedding to achieve relevance, wider loyalty and ownership, M&S may have to diversify its traditional exclusive supply dependence away from its high-priced British suppliers that indeed proved to be the principal liability in its business model.
M&S did not follow its high street competitors in sourcing their clothing lines from cheaper suppliers overseas. M&S saw its profit position decline from an unprecedented one billion pounds. Its food department kept the empire afloat for decades but the clothing line was the main revenue earner. On line shopping, an aging British demographics, increasing high street rents and cheaper clothing stores such as Primark gradually whittled away at the dominant clothing monopoly held by M&S.
It established over one thousand stores across the UK retail trading landscape. Like the late Kirpalani's and Woolworth's it began to pay the price of diseconomies of scale and corporate failure to negotiate rapidly changing British business retailing dynamics. Hence the proposed 100 closures to reinvent itself.
I empathise with my fellow compatriots who will be saddened by this decline especially my Trinbago sisters who sourced their lingerie ward-robe from M&S. I myself am an M&S man to the marrow who wore nothing less than the St Michael's label. However having joined the senior citizenship crowd as so many Britishers have done, I now cannot help this celebrated British institution to weather the high street storm that is dismantling its traditional retailing appeal and loyal customer base.