By Raffique Shah
May 16, 2018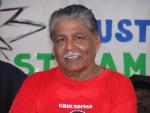 Sometimes it pays to stay aloof of the noise that tends to pollute discussions on issues as important as the state of the national economy and efforts to resuscitate it. Last week, Finance Minister Colm Imbert's mid-year review of the fiscal 2017-2018 Budget, which has been elevated to a media event, degenerated into a political slugfest involving several prominent economists and political commentators, and cantankerous Colm.

The dust has not yet settled, so we cannot say who won-if there are winners and losers in such brawls. Personally, I steered clear of it, having decided not to speculate beforehand on the Minister's likely announcements, or to listen to his speech. I usually read the document afterwards and listen to the analysts as they "drill down" into the numbers and general data proffered.
There was nothing new coming from any quarter, including the opposition in Parliament, who, uh-hum, would magically materialise money to dole out to the "gimme-gimme" populace if they return to office, and Imbert, who needs to have his eyes examined by ophthalmologists from outer space, given his boast of seeing clearly into the future, better than any quack-psychic or obeah-man.
I am happy that rising oil prices and increased natural gas production have positively impacted the revenue column of the current Budget, and that marginal increases in corporate taxation, combined with improved collection, have reduced the worrisome fiscal deficit. I am as disturbed as every citizen ought to be, by the rising debt profile-currently over 60 percent of GDP. And I'm especially worried about the US $800 million that the now-lame Petrotrin has incurred (a fraction of its overall debt) which is repayable next year.
Moreover, Minister Imbert must be aware that cutbacks in capital expenditure have left basic infrastructure, especially roads, in a woeful state of disrepair. Of course, that was not an overnight occurrence: the previous administration, even as it feasted on oil dollars, ignored arteries like the Southern Main Road as it splurged on a number of non-essential back roads to satiate the greed of certain contractors, and possibly some ministers.
While I'm at it, I need remind the opposition that is making a "cause célèbre" of the first class soil in St Joseph that the PNM Government is hell-bent on covering with concrete in the form of housing, that on the eve of being voted out of office in 2015, it was sharing vastly more productive lands at Chaguaramas like "parsad", at peppercorn prices, to the elites in the society.
So I take anything politicians on both sides of the parliamentary aisle say with the proverbial pinch of salt.
What they do not say makes me more skeptical of their motives.
For example, one subsector in agriculture that has been active at an almost frenetic pace, and which has immense potential for export, hence foreign exchange earnings, hardly merits mention by Government. I refer to the cocoa industry, which, last year, sank to its lowest production ever—approximately 400 tonnes.
By now, every Trini-to-the-chocolate-tea-sip knows that this country's fine-flavour Trinitario cocoa is recognised globally as being the finest, and is in demand by high-end chocolate manufacturers. Our beans fetch twice what bulk cocoa beans do: I have a dated price of US $5,000 per tonne vs $3,000. But I have always advocated adding value to our produce and products, hence chocolate over beans.
Several small enterprises have been established to do just that, the premier one being the T&T Fine Cocoa Co Ltd which manufactures dark and milk chocolate bars and cocoa powder. This company boasts of being the exclusive supplier of fine chocolates to Harrods of London, an iconic upscale department store in that city. Its Single Estate dark chocolate bar and its creative "steel pan" packaging (the cover of the tin looks like a tenor pan) won silver medals at the Academy of Chocolates Awards in 2017.
There are scores of other "chocolatiers" operating in both Trinidad and Tobago, many of them graduates of courses conducted at UWI by the Cocoa Research Centre. The CRC also houses the biggest cocoa gene bank in the world, and it produces and markets a dark chocolate bar.
Meanwhile the State-funded Cocoa Development Company of T&T, which falls under the Ministry of Agriculture, is a beehive of activities, according to its website. From instilling vitality in existing farmers whose plantations have suffered severe neglect and exposing them new prospects in the industry to sensitising school children to opportunities in cocoa, the CDCTT officers have been busy.
Tens of thousands of cocoa plants are sold annually to existing and new farmers, the goal being to increase production incrementally, aiming at 10,000 tonnes or more in ten years. Minister Rambharat said in 2016 that a properly reconstituted cocoa industry, structured to manufacture chocolates for both the local market and export, could earn TT $10 billion annually.
I have heard some experts put the industry's potential at US $5 billion.
If they are all over-optimistic, and within 10 years cocoa exports fetch US $1 billion, isn't that something we should work to achieve?
It is the sole product in which we have a genetic, and maybe a superlative advantage globally. Let us harness all the required resources, especially labour (CEPEP and URP, costs shared by farmers and government), instead of arguing "tatah" about whether the economists or Imbert knows his posterior from his elbow.
Chut, man!