By Gail Alexander
May 10, 2018 – guardian.co.tt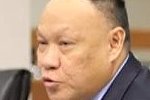 The Government should not institute the property tax since Finance Minister Colm Imbert recently said T&T has "turned the corner" and also projected "good news" in today's mid-year Budget review, says Opposition Chief Whip David Lee.
"He has painted a more positive outlook for T&T in recent weeks. Also, energy prices are better than before. If the situation is really good, Government should have no need to pursue the property tax and inflict further hardship on the public," Lee said yesterday.

Imbert will deliver his review at 10 am today in Parliament, detailing the economic and financial outlook in the seven months since the 2018 Budget was presented last October. The $50 billion Budget carried a projected $4.76 billion deficit, with measures aimed at reducing this.
Imbert is expected to give the status of Budget plans – including property tax implementation – revenue streams and energy projects and give possible adjustments.
This might extend to amendments to property tax proposals. Debate on the tax continues in the Senate tomorrow with amendments from Government which – in last week's debate – noted Opposition and Independent senators' concerns on various aspects of the planned tax.
Full Article : guardian.co.tt