By Stephen Kangal
April 18, 2018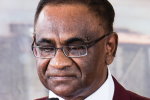 In spite of the surprising level of sensitivity and thin skin displayed by Her Excellency The President Ms Paula Mae-Weekes to public concerns expressed on the Darryl Smith appointment I submit that she should not have acceded immediately to the advice of the Prime Minister and proceeded unwittingly to appoint ailing Maxie Cuffy in a new post as a Minister.

Minister Cuffy took the original Ministerial oath "…to the best of my ability to discharge my duties as Minister…"
Because he is unfortunately out of the jurisdiction of Trinidad and Tobago recovering from a stroke in a US hospital at present he cannot discharge his duties as Minister. He cannot even do so to the best of his ability because he is physically and mentally incapacitated with a medical incident. The Constitution recognizes these considerations as evidence when a Minister "is incapable of performing his functions" in Section 79 (2).
This was a test of independence, judgement and exercise of Presidential Constitutional authority that Her Excellency has failed very early in her Presidency. Her Excellency should have delayed her appointment as former President ANR Robinson did because the Constitution uses the discretionary/optional "may" instead of the imperative/mandatory "shall" in this regard.
Her Excellency has in fact appointed someone to high office who knowingly by The President cannot fulfill the duties of the Office to which he was appointed and sets a terrible example of misjudgement.
She should have requested a medical report on Mr Cuffy's current condition from the PM to determine whether Mr Cuffy can faithfully fulfill the obligations of the Oath of Office that he took in 2015.
As for Prime Minister Rowley he should not have placed Her Excellency in such an untenable position in advising her to make this appointment
so early in her tenure when Mr Cuffy is physically, mentally and geographically unable to perform the duties of a Minister.