By Jada Loutoo
April 13, 2018 – newsday.co.tt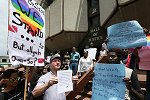 A victory was scored yesterday for the LGBTQI community, which is now celebrating a landmark Supreme Court ruling which has overturned this country's sodomy law, deeming it unconstitutional.
Justice Devindra Rampersad had been asked by Jason Jones – a Trinidad-born openly gay man – to determine whether the State had the constitutional authority to criminalise sexual relations between consenting adults of the same sex.

He ruled that Jones' dignity and basic human rights were taken away by a state-sanctioned threat of prosecution and persecution because he was homosexual.
In his 58-page written decision, Rampersad said Jones has been treated differently to heterosexuals because of his sexual orientation and the manner in which he expresses his love and affection.
The judge also disagreed with the State's argument that Jones' case was not about homosexuality, adding that the retention of the law had "everything to do with homosexuality and the colonial abhorrence to the practice."
He added that the law "obviously remains" as a statement by the State against homosexuality "since there seems to be no other purpose."
He said because of the manner in which Jones chose to express his love and affection, he had been treated differently from heterosexuals because of his sexual orientation.
"It is a threat that is sanctioned by the State and that sanction is an important sanction because it justifies in the mind of others in society who are differently minded that the very lifestyle, life and existence of a person who chooses to live, in the way that the claimant does, is criminal and is deemed of a lesser value than anyone else.
"Those criminal sanctions have the potential to be used oppressively by differently minded citizens as a foundation for hate as condoned by the State."
In 2017, Jones challenged sections 13 and 16 of the Sexual Offences Act which criminalised "sexual intercourse per anum" (anal sex) between consulting male adults. He complained that his basic common-law rights to privacy and family life were being infringed, as the law treated him differently because of sexual orientation, and imposed criminal sanctions on him.
Rampersad said the offending sections were not "reasonably justifiable in a society that has a proper respect for the rights and freedoms of the individual.
"This is not a case about religious and moral beliefs but is one about the inalienable rights of a citizen under the Republican Constitution of Trinidad and Tobago; any citizen, all citizens.
"This is a case about the dignity of the person and not about the will of the majority or any religious debate.
"To this court, human dignity is a basic and inalienable right recognised worldwide in all democratic societies."
He said by the three-fifths enacted law, Parliament took "the deliberate decision" to criminalise homosexuality and threatened homosexuals with prosecution and persecution, leaving them unable to lawfully live their life, choose their life partners or create the families that they wished for.
"To do so would be to incur the possibility of being branded a criminal.
"That is the threat that exists at present."
Rampersad also said keeping the unenforced laws on the statutes made no logical sense and, instead, "seems more vindictive than protective or curative in any manner.
'As if to hold a "big stick" over a minority to try to enforce a portion of society's morality over it."
Rampersad said there was no reason why non-consensual sexual intercourse per anum cannot be caught under rape.
"The definition of rape is therefore broad enough to cover nonconsensual sexual intercourse per anum. The conscious effort and deliberate action to extract this non-consensual activity from that offence of rape is an obvious preservation of the societal abhorrences towards homosexuality."
Although he has deemed sections 13 and 16 unconstitutional and of no effect to the extent that they criminalise any act constituting consensual sexual conduct between adults, he did not immediately strike the offending sections off the law books.
The judge has invited written submissions on the issue of striking down the sections which will be ventilated in court on July 4.
The State, represented by Senior Counsel Fyard Hosein, said it was leaving the issue up to the court to pronounce on, but needed time to consider and research the ripple effects the ruling may have on other legislation and legal principles, particularly as it relates to Parliament being the supreme lawmaker and the savings-clause feature of the Constitution, which precludes a court from striking down and reviewing legislation which was in existence when the Constitution was drafted and which has been marginally changed since.
Full Article : newsday.co.tt