By Raffique Shah
February 21, 2018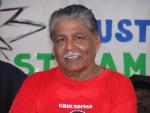 As Government wrestles with seemingly intractable problems that bedevil the Trinidad-Tobago sea-bridge, and with the public's focus riveted on which ferry might be operational on any given day and how many passengers or vehicles are left stranded at either port, the population could be easily blindsided to a looming disaster-in-the-making, the Prime Minister's pet project—a port/ferry terminal in Toco, and a new main road from Valencia to Toco.

The ferries fiasco is now daily news because of poor leadership and management at the Port of Port of Spain over many years, and poor judgement and/or irresponsibility, maybe even corruption, on the part of politicians and their agents.
It is inexcusable that the sea-bridge has been reduced to one limping, expired (for major maintenance works) vessel, another dry-docked for many months with no firm date of returning to service, and a recently-leased cargo boat that cannot accommodate the truck drivers, resulting in a logistics nightmare for Trinidad- and Tobago-based business operators.
That Cabinet found it necessary to intervene directly to secure a new passenger ferry after several failed attempts by PPOS boards and management is a serious indictment against that level of personnel in a country that boasts of being on the threshold of developed nation status. Or likelier, it was, and continues to be in a broader context the propensity of politicians to choose blind loyalty over proven competencies.
Whatever the combination of factors that landed us in this mess, they would pale by comparison if, as a people, we abdicate our responsibility to subject the PM's pet Toco-to-Tobago multi-million-dollar, questionable project to close scrutiny.
Before one tree is cut on the eco-sensitive Northern Range between Valencia and Toco, we must demand consultation between Government and its advisors and experts on the one hand, and taxpayers who will foot the bill for what looks set to be a costly misadventure, on the other. I am particularly interested in the fates of those villages along the Toco Main Road which will be by-passed by the new road.
Will exotic names such as Matura, Salybia, Balandra, Rampanalgas and Cumana, among a dozen-or-so villages, disappear as Tobago-bound tourists by-pass them on their way to the new port? I note on NIDCO's website that six bridges along the Toco Road are scheduled for major works, which is long overdue.
Before one pile is driven into the waters off Toco, the Government must show the engineering and economic feasibilities of the project. If a Toco-Tobago sea-bridge is a potentially profitable project, then surely the Government can interest private capital to take the plunge, to invest in a port that is likely to be very costly to construct because of rough seas in that part of Trinidad.
We must not allow Government to use hundreds of millions in public funds to establish infrastructure and a service that will add to the country's mounting debt and will need to be subsidised annually. The existing ferry service costs taxpayers approximately $150 million a year, The air-bridge probably costs another $50 million. Shall we allow ourselves to be suckered into spending another billion dollars on a port we do not need—and I haven't factored in the cost of the new road.
In order to illustrate my contention that governments spend other people's money (taxpayers') without consideration, I ask readers: how many of you are aware that the Patrick Manning's, Kamla Persad Persad-Bissessar's and Keith Rowley's administrations have spent US $100 million on Port Galeota? "Port Who?" you ask. Yes, a five-berth port at Guayaguyare that all three administrations have euphemistically dubbed a "logistics hub", whatever that might mean.
It was approved by the Manning administration before 2010, even though preliminary studies warned about excessive "silting" from the mighty Orinoco River, and under-utilisation by general maritime traffic. The port primarily services the oil companies that are involved in exploration and production offshore the South-East and South coasts of Trinidad.
When then Energy Minister Kevin Ramnarine formally opened the first phase in September 2014, he trumpeted the port as "providing quality infrastructure that will attract foreign direct investment to the upstream and downstream industries." In October 2016, chairman of the National Gas Company, speaking about the second phase (US $140 million), due to become operational in 2019, said the port "will allow for expanded exploration and production of oil and gas in Suriname, French Guiana, Guyana as well as local deepwater activity…"
Eight years after construction began, and approximately TT $1.3 billion spent on a port that has a captive clientele of the largest oil companies operating offshore Trinidad, the citizenry know nothing about Port Galeota. Is it operational? Is it breaking even or maybe making a profit? Has it attracted an international partner who has a proven track record of efficiently operating ports?
As it stands, Government and its agencies have failed miserably in operating ports (the PPOS is subsidised to the tune of $200 million per year), ferry services (similar subsidy), and bus service (PTSC costs taxpayers $140 million for woefully inadequate services).
If Prime Minister Dr Keith Rowley is convinced that a Toco-Tobago ferry service is a profitable solution to our inter-island connectivity woes, let him put his money, not ours, where his mouth is. Let us give him dispensation to invest in a private company, along with other daring entrepreneurs and proceed full speed ahead.
I swear I hear his partners chanting: Captain, this s*it is stinking!