By Raffique Shah
January 30, 2018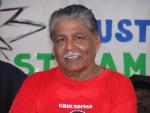 They looked pathetic, three of the leading calypsonians in the country—Chalkdust, Sugar Aloes and Pink Panther—as they begged the Government for a "mere half-a-million-dollars" to operate the Calypso Revue tent over the three-week Carnival season. Admitting that they had already received $100,000 funding that was woefully inadequate, the top bards invoked the name, memory and legacy of the great Lord Kitchener, who founded the Revue 55 years ago. For Kitchener's sake, they pleaded, grant us the half-a-mil.

I was quite disappointed in Chalkie in particular, who, having been a pioneer of sorts in the art form, and a nine-time monarch to underscore his authority, ought to have seen the steady decline of standards in calypso over the past two decades or more, and the consequential demise of the tents as we knew them, hence the dire need for re-engineering the product to enable it to survive in the modern, electronically-driven, fast-paced world.
I should point out to the Revue bards that I was among the first scribes to oppose governments' overly-generous grants to privately-owned, profit-driven businesses like the Chutney Soca Monarch and the International Soca Monarch shows. I thought it was obscene for the Kamla Persad-Bissessar's administration to increase the winners' purses in these competitions to $2 million each, courtesy the country's taxpayers. And it was vulgar for the Keith Rowley administration to continue the nonsense when it took office in 2015 amidst collapsing commodities' prices.
I have said and written, repeatedly, that while I agree that government should encourage promotion and advancement of our cultures, and make inputs in advancing the entertainment industries as facilitators, given their potential to contribute to the economy, the burden of such initiatives rests on the shoulders of the artistes and the private sector.
Specifically pertaining to calypso, my columnist colleague Martin Daly, last Sunday, pronounced the death of social and political commentary as we once knew it. He noted the shrunken audiences at the tents, and I will add at the Dimanche Gras show at which the Calypso Monarch competition is the main fare. Lest this near-absence of patrons at the eight-or-so tents be blamed on crime, note that the fetes, even the expensive all-exclusives, are well patronised, albeit by an age-group that has little interest in calypso—which is a critical point that Chalkie and his colleagues should have addressed ever since the slide started years ago.
I do not agree with Daly that calypso, meaning the four principal genres—social and political commentary, and humourous and musical—are dead. I however argue that the "tent" of yesteryear is forever gone, and while I expect talented young artistes to fill the breach and keep the art form alive, they will do so in formats different to what we have known, in my case for 65-plus of my 72 years.
Change was inevitable, of course, it being the only constant in life. But there are reasons why calypso tents collapsed in less than a century.
Sub-standard calypsos fuelled the exodus from the tents: what songs since, say, the year 2000, can anyone remember and hum a few verses and the chorus, other than a few by David Rudder, Gypsy and maybe Chalkie? To illustrate how frustrating it is, I cannot recall two lines from Chalkie's winning song last year, But I can sing all of his 1971 hit "Ag fraid Karl", and some of his 1977 crown-winner "Shango Vision" in which the hook lines were, "Big men would be toilet-ing'/if Raffique Shah did win."
Put another way, most Trinis, including those born long after these songs were hits, will easily sing along with or dance to compositions like Blakie's "Steelband Clash" (1954), Sparrow's "Jean and Dinah" (1956) and "Drunk and Disorderly" (1972), Kitchener's "Flag Woman" (1976) or Shadow's "Bassman" (1974). But ask them what were the Road Marches over the past decade that they partied to and they would be stumped.
Moreover, social and political commentaries don't have to be dirges, lamentations for the dead (and sung in dead-beat fashion). Sparrow's ability to laugh at himself and Karl Hudson-Phillips's ONR party that was annihilated in the 1981 election, was so upbeat and bouncy, it had even ONRites jumping and singing "We like it so!" Sniper's nation-building "Portrait of Trinidad (1965) remains a classic even today, and Dougla's "Lazy Man" (1961) was a sing-along comedy. In my view, the last upbeat calypso that won the monarch title was Stalin's "Sundar Popo" (1995).
Returning to the demise of calypso tents, brothers Frank and Claude Martineau showed the way forward with Spektakula Forim back in the 1980s: a spacious, comfortable venue, a good mix of artistes, and a tight, professionally-run programme. Besides blazing a trail that others failed to follow, they recognised when attendance at nightly shows started falling and they closed the Forum. However, they continued in the business by staging several concerts every Carnival season that feature star-studded casts that perform to full houses—undoubtedly a lucrative formula for both promoters and artistes.
Best of all, they don't have to beg government for financial help. They run a business, which is what Chalkie and Aloes must do. If the latter's concern is nurturing new talent, let the fully-funded TUCO tent take on that responsibility. Stop crying…start doing.