By Jensen La Vende
January 11, 2016 – guardian.co.tt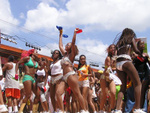 With the Carnival season now in full swing, police are warning people who plan to gyrate on others that they can be arrested for assault if the person they want to "thief a wine on" decides to engage the police.
Speaking at the weekly media briefing yesterday, public information officer of the Police Service ASP Michael Jackman said it is an assault to touch someone without their consent.

"Any physical touching where there is no consent with one of the parties involved is in fact unlawful and can be deemed an assault," Jackman said when asked about unsolicited gyrating.
Asked about plans to ban glass bottles for Carnival events, Jackman said the necessary stakeholders are having discussions about that. He added that Gold Commander DCP Deodath Dulalchan and alternate Gold Commander ACP Radcliffe Boxhill met with the heads of the nine divisions to ensure a full turn out of police officers.
Jackman said there have been a major decrease in criminal activity during the Carnival period.
Last year, there was a 33 per cent decrease in serious crimes reported compared to the year before. He added since 2012 there have been an 87 per cent decrease in serious crimes during the Carnival period.
He called on both locals and foreigners to be vigilant during the Carnival period.
Source: http://www.guardian.co.tt/news/2018-01-10/cops-get-permission-thiefing-wine