By Raffique Shah
January 02, 2018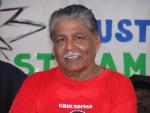 Serendipity often steals upon you in strange ways. I was about to shut down my computer last Wednesday night when, in my e-mail inbox, I saw a post by Lasana Liburd alerting me to a video interview he had conducted with David Rudder. I respect Liburd for maintaining high standards on his Wired868 blog, and for me, Rudder is a peerless trailblazer who attempted to usher in a new era in calypso music in 1986.
/]
Rather than postpone watching the 26-minutes video, I thought, why not now? I clicked on it, and for the next hour-and-a-half, I was transported into the magical realms of, not one, but two great Trini-Caribbean artistes, Rudder and Andre Tanker.
Lasana didn't really interview David. He just prompted him occasionally, and, in what could be described as a journalist's dream, Rudder "ramajayed", revealing interesting insights into his life—growing up in Belmont, having a love for music from boyhood, and discovering his talents as a composer, back-up singer, and eventually the consummate calypsonian.
He is one of the few performing artistes I've heard say that when he first found himself on a big stage, he experienced no nervousness. That could have been because he had tremendous self-confidence or more likely because he had been on stage before, not as a solo act, but as a member of a chorus group.
Interestingly, but not unexpectedly, Rudder's opening salvo is: "I am from the (old) school…I like lyrics…melody…change of chords…sweetness." Without uttering a word of artistic blasphemy, he says it all about plummeting standards in what passes for soca music today. It pains people like me, who love good calypso music, in fact, sweet soca music as pioneered by Lord Shorty (my pores raise as I hear Endless Vibrations), to find ourselves inundated in a sea of mindless non-musical detritus.
Rudder sums up the decline in music, and standards generally, this way: "…It makes more sense to the mindset of the times…it's a generational thing…the people have lost the rhythm of melody in their lives…everybody just hanging on…trying to eat ah food…the world has 'dumbed down'…I grew up learning to say 'Lasana and I did that'…nowadays, everybody says 'me and Lasana'…"
But I meander. People who have an interest in the art form and in Rudder can access the video online, I enjoyed listening to him recall entire weekends he and others, among them Carl and Carol Jacobs, spent at the RCA recording studio in Sea Lots (yes, Sea Lots!) doing back-up vocals for established singers, being co-midwives at the Soca Baptist birth of Blue Boy (Superblue), and his crazy exploits with Crazy, for whom Rudder had penned Bahia Girl one year before he (Rudder) sang the monster hit that launched him into the stratosphere of calypso music.
Rudder stamped his authority on calypso in 1986 in such a powerful way, we aficionados often forget that that was the year in which Gypsy sang the politically-charged, humongous hit Sinking Ship that is credited with helping oust the PNM from power after 30 unbroken years. It was also the year in which the hitherto unknown Brother Marvin sang another great lyrical and musical calypso, Jahaji Bhai.
To have dominated that golden year, winning both the road march and monarch titles, was an astounding achievement for Rudder. From that explosive entry, almost incredibly, the new star rose to higher heights, composing and singing some of the greatest calypsos of all times, among them my favourite, Calypso Music.
So I sat there that night all fired up by the Rudder interview and snippets of his songs, such that when the video ended and among the links that Youtube posted on the screen was one on Andre Tanker, I could not resist seamlessly switching from one musical genius to another: turned out that it was a 1999 Calypso Showcase interview featuring "The Tank" conducted by Alvin Daniel.
Maybe I had watched it before, I don't recall and I didn't care: I was not about to miss out on this extraordinary local artiste, who composed, sang and arranged and played the music for "around 200 songs" (he told Alvin), tell his story. From the "old tenor pan" that Invaders' Ellie Mannette gave him and his friends (all boys barely 10 years old) through the early days with The Flamingos that played at The Hilton, through collaboration with sitarist Mungal Patesar in producing the crossover soundtrack for local movie Bim (starring Ralph Maraj), sitting at the feet of master drummer Andrew Beddoe, Andre's life was an amazing musical adventure.
As interviewer and interviewee explored the odyssey of this gifted son of the soil whose only accolade from an indifferent country that he placed on the global musical map was, and continues to be, his devoted fans who attended his performances and purchased his albums, I felt sad.
It pained me when Alvin asked Andre about compiling his greatest hits, which would have meant producing several CDs. "I'm working on it," Andre said. That was in 1999. He died unexpectedly in 2003, at age 62-mission unaccomplished.
And this society has the nerve to wage war over "tatah" ditties and award millions of dollars in prizes to singers who render no songs, have no melody? Gimme a break!