PNM women slam 'Rowley mother' song
By Seeta Persad
December 23, 2017 – newsday.co.tt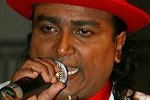 Chutney Singer Nirmal "Massive" Gosine's latest song Rowley Mother Count has triggered a heated online debate on what should pass for composition at the national level.
Yesterday, Planning and Development Minister Camille Robinson-Regis joined the chorus of opposition to the play of words, describing it as distasteful and loathsome.

"No matter what someone may feel about Prime Minister Dr Keith Rowley, at least the office he holds should be respected," Robinson-Regis said.
She also condemned the role of popular music arranger, Leston Paul, for producing the song for Gosine.
"The song is disgusting, repugnant and loathsome," Robinson-Regis added.
Full Article : newsday.co.tt