By Raffique Shah
August 02, 2017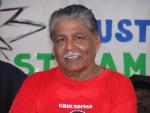 I declared a personal health crisis at 2 a.m. two Wednesdays ago, informing my family that I needed to be taken to a hospital for emergency treatment for possible pneumonia or threat thereof.
On the previous Saturday, I had awakened with a severe sore throat, and within hours other symptoms of a nasty virus that's making the rounds manifested themselves. By Monday, I was wheezing like an ancient farm tractor and every part of my body ached, I realised that my carefully-built and well-maintained defences, based on diet, supplements such as Echinacea and vitamin C, and daily exercise, had been breached by those dreadful bad bacteria for the first time in more than a decade.

I realised, too, that at age 71, I was nowhere as fit as I was up to my mid-60s, and worse, I am stricken with Parkinson's disease, which, being an auto-immune condition, will have helped compromise my immune system. Asthma, which I thought I had licked some 15 years ago, returned with a vengeance.
Still, I thought I could beat the beast…until I awoke from a fitful sleep at around two that morning, weak, wobbly and wheezing. I was mindful that Parkinson's sufferers are particularly susceptible to pneumonia, which, while it's treatable, can also be fatal if not handled with urgency. Mohammed Ali, the most famous Parkinson's patient, contracted pneumonia several times during his decades-long battle with the debilitating brain condition. He eventually died from pneumonia, not Parkinson's.
So, groggy as I was, and harbouring a morbid fear of hospitals-I had had one previous two-night experience in San Fernando General back in 2001 when I fractured five ribs in a nasty bike fall-I decided to exercise caution by urgently seeking professional medical help.
That my family and I, without second-thinking, opted for a private hospital that assured us they had a doctor on duty, betrayed our lack of confidence in the public health institutions, in which respect we are not singular. But it bothered me that we did not even consider it. I, of all people, should show more confidence in the public health facilities that ordinary citizens must use every day. I know they are staffed by professionals at every level, many of whom moonlight at the private institutions where you pay for their services.
But was I prepared to put my life on the line at that ungodly hour in a crisis situation that required rapid interventions? No.
Upon arrival at the private institution, I was speedily wheeled into an examination room where a young doctor evaluated my vitals, took blood for analysis in the lab, and had my chest x-rayed. Minutes later I was warded, hooked up to a nebuliser, and administered the first of several injections I would have during the forty hours I spent there.
Within an hour, the doctor informed my family and me of the results of the blood analyses and x-ray: other than some inflammation in the respiratory system, which could result in pneumonia if left untreated, my vitals were good given the trauma my body was undergoing. I would be nebulised, administered oxygen, antibiotics and cortisone, and monitored by nurses and doctors around the clock.
Any hope I had of not spending a night in the hospital vanished after the consulting doctor, a respiratory system specialist, read the various reports and personally checked me. I heeded his advice, endured 30 hours of intensive care before I was taken off continuous oxygen and periodic nebuliser, although I continued taking medications intravenously and orally.
Needless to say, that short stay cost some tall dollars. Upon admission, I had to commit a significant fee. Thereafter, I paid for the air I breathed (I exaggerate…I mean oxygen), the water I drank, the drugs administered (one antibiotic tablet cost $180!), accommodation, professional and physical help rendered, and other assorted fees.
I need repeat that the staff, from consulting specialist through junior doctors, nurses, technicians and those who rendered physical help, were very professional, serving with the proverbial smile.
I still wonder, though, what might have happened had I gone to San Fernando General. It is likely I would have encountered scores of patients with conditions more critical than mine (heart attacks, strokes, gunshot wounds). The staff might have been bone-tired at that hour, and more than likely I would have had to wait many hours for services such as x-ray and lab analyses, not to mention a bed, if I judge by reports on the state of our public health institutions.
I know it's not all negative: every so often, one hears glowing stories from patients who got first-class treatment at public facilities.
I argue, though, that given the sizeable sums of money spent on national health every year, such stories should be the norm, not the exception.
Private medical facilities provide vital services for those who can afford them. Public health should deliver no less to the wider citizenry.