Govt's hands may be tied
By Shaliza Hassanali
July 08, 2017 – guardian.co.tt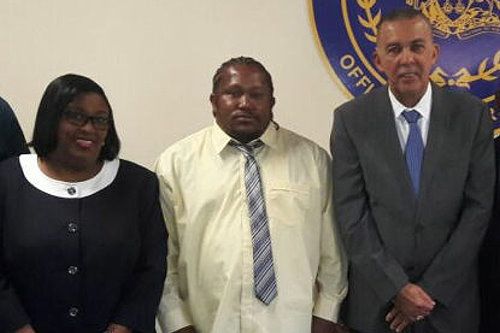 MP Marlene McDonald, Cedric Burke (centre) and President Anthony Carmona
Prime Minister Dr Keith Rowley has admitted that the Housing Development Corporation may have no choice but to allow Sea Lots community leader Cedric Burke to complete the contract he has on a development in Bon Air, Arouca.
He also admitted his Government did not undertake due diligence in appointing the board of directors of the East Side Plaza and New City Mall, Port-of-Spain.

His comments came yesterday, after he was asked by the T&T Guardian if Burke would be allowed to keep his contract, given that he (Rowley) had fired Port-of-Spain South MP Marlene McDonald for aligning herself with Burke.
"If it is that Mr Burke has a contract …I hope you are not asking the Office of the Prime Minister to disregard the existence of a contractual arrangement, because Mr B or Miss A would simply go to court and the next thing you know we would lose the case and then you'll ask me why you have done that?"
Asked if he was aware of a "Rasta City" video displaying photographs of community leaders armed with a variety of arsenal, which has been circulating on social media since last August, and if an investigation had been undertaken by law enforcement officers to arrest those involved, Rowley said any video that identifies individuals with weapons which appeared to be pointing of criminal conduct of any kind should attract the attention of all the security services.
Full Article : guardian.co.tt