By Raffique Shah
July 02, 2017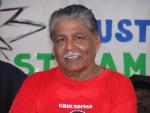 In 1950, when I was four years old, my father moved the family from a sugar company cottage in Brechin Castle (now Rivulet Road) to a rented house near the Croisee in Freeport. The house, two bedrooms sitting on stilts about five feet high (I'm writing from childhood memory), was located off a sharp bend in the Freeport River, the main watercourse in what I call Greater Freeport. In fact, its eastern boundary was the meandering river, and because the land was lower than the road, level with the river-bank, whenever it rained heavily for more than a day, which occurred several times every rainy season, our yard was flooded, the swirling waters ranging from a few inches to maybe three feet.

My parents knew this when they rented the house, so they prepared for it: only the steel-drum wash-tub and fowl-coop were located downstairs, and they could be easily relocated to the small gallery. The latrine and galvanise-enclosed shower could handle their flood-stories. The family, like others similarly affected, would batten down upstairs for a day two, then clean up after the flood waters subsided.
During the four years we lived there, and the dozen-or-so floods we endured, not once did my parents seek help from the colonial Government. That was unheard of. Neighbours helped each other during clean-up. But my parents knew that they had chosen to live on the river-bank, they prepared for flooding as best they could, and stood the consequences stoically. By the time I was eight, and my two sisters and I had the addition of two brothers, Pa bought a small house in nearby Bokaro Village (now Beaucarro) on land that did not flood. The Shahs' family house still stands there, flood-proof.
I have related this childhood story of flooding in the wake of the more serious and widespread deluge and inundation experienced by thousands of citizens across the country, inflicted by tropical storm Bret. Taking a direct hit from a storm that was similar in intensity to Alma (1974), which I experienced, responsible persons will have prepared for the worst-or you'd think so.
I recall that many more houses lost their roofs to Alma, downed power lines were more widespread, and Central Trinidad bore the brunt of the flooding, more so than South. In both instances, the agencies responsible for disaster-preparedness kept the population informed as the storm approached, and during Alma's passage. I slept through most of Bret, having secured our home as best we could, and having checked with other family members and friends that they were prepared.
In Claxton Bay, residents awoke Tuesday morning to the calm after the storm, mostly unscathed. But reports from many other districts, especially communities located in the "riverine delta formations" (as Wayne Kublalsingh describes them) of Oropouche North and South, and Caroni, it was clear that the flooding was severe and damages extensive.
Predictably, politicking took precedence over rational responses, party noises drowned genuine pleas for humanitarian relief, and before the week ended, race reared its ugly head, as has become the norm nowadays.
No one noted that among the victims howling for help was a mother of fifteen children living in a tiny shack seemingly built in the middle of a lagoon, one of many such victims in the wider Oropouche wetlands.
Politicians pretended not to hear scores of victims who lost everything on the ground floors of homes say "this time was the worst", meaning they had suffered flood damage many times before, and this will not be the last, unless they relocate upstairs or move to higher ground—which is a near-impossibility in the flatlands of Trinidad that are barely above sea level.
I was born and have lived all my life in Central, so I know all flood-prone districts, from those along the banks of the Caroni River to the north, through the plain and the Caparo Valley, down south to all of Debe, Penal, Siparia and Barrackpore, and every place in between and adjoining. Like calypsonian Rio, in my active years, I was a travelling man.
Jah has only to threaten to pee—is flood! Heaven help the poor sods who live in those flatlands if He decides to empty his bladder. And should He break wind in the process, well, you figure.
I agree that some additional infrastructure and public works—dredging and cleaning watercourses, building embankments and retention ponds—can mitigate flooding. More importantly, Trinis need to change their nasty habits of discarding waste in every drain or river. And, wishful thinking, the law needs to jail everyone who impedes the free flow of watercourses.
In the end, though, it's up to individual citizens to flood-proof themselves the way my father did 60-odd years ago. Because you compensate people for their Bret-losses, say $50 million, and come the next deluge or storm (sure looks like the first real rainy season in many years), there will be more floods, more million-dollar damages, more taxpayers' dollars down the drain, literally. Mark my words.