By Raffique Shah
May 30, 2017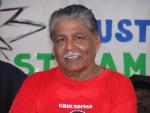 For some time now I have sounded warnings to our tribal leaders, more specifically those in the frontline of the United National Congress, that they are playing with fire by fanning the embers of racial strife that could easily ignite. While we have enjoyed relative harmony in a world wracked by ethnic and religious strife, the absence of war between the two main tribes in this country does not necessarily mean peace.

The offenders do not have me to study, as Trinis would say. They keep stoking the fire, not too subtly. Then, when a race-incident of a nasty nature flares up, they express righteous indignation and cast blame on everyone but themselves.
Last week, after the Court of Appeal ruled against three injunctions Justice Frank Seepersad had granted the UNC in the Property Tax issue, and on the Judicial and Legal Services Commission appointment of two new judges, Seepersad was subjected to a barrage of insults and abuse that reeked of race, mostly on the social media, by persons who clearly believed he had acted not on law, but on tribal instincts.
So vitriolic were the assaults on Seepersad, the Law Association and prominent attorneys rushed to his rescue (rather than defence) in the face of the judge being tarred and feathered in the public domain in a campaign that treaded perilously close to physical violence.
And who were the architects of this racial backlash? I submit that by their undisguised politicising of Seepersad's injunctions, Kamla Persad-Bissessar, Anand Ramlogan and Devant Maharaj, among frontline UNC spokespersons, were responsible.
I shall explain why. When Ramlogan, through Devant Maharaj, applied for, and was granted, an injunction restraining the Commissioner of Valuations from demanding that property owners submit the controversial forms, I concurred with the ruling. I was not aware that there were procedural errors which the Appeal Court deemed fatal.
I had earlier accused Finance Minister Colm Imbert of bullying law-abiding citizens who wanted to pay the tax, threatening us with fines, and refusing to extend the exercise over a reasonable period of time.
However, when Seepersad extended the order to prohibit property owners from voluntarily submitting the forms, I thought that was radically wrong. How could any judge prevent me from participating in a lawful exercise or paying a tax I chose to pay? No way!
The Appeal Court confirmed my "bush lawyer" opinion and ruled as I thought it would in the JLSC matter. By themselves, the reversals do not diminish Seepersad's stature as a judge, although he may have suffered a bruised ego.
To return to the substantive matter of race, Seepersad did not select himself on the applications for injunctions, nor could Ramlogan select him. Therefore, there could hardly have been collusion between the two parties.
But when Ramlogan, flanked by an all-Indian cast upon emerging from the court, declared victory in a matter that was in its preliminary stage and was yet to be tested in open court, people, especially those who do not support the UNC, became suspicious.
They did not know of the rotation of judges to sit on urgent or emergency matters, or of computers randomly selecting judges, something I was unaware of. Suspicions grew wilder when Seepersad adjudicated on the JLSC matter while he was Tobago via video-conferencing. Bloggers on the social media peddled the judge's prowess to write up a lengthy ruling overnight, and conspiracy theories, all racially-tinted, abounded.
Adding fuel to the race-fire, the UNC trio trumpeted victory in all three injunctions, misleading the public into believing that Seepersad's interim injunctions were final.
Informed citizens knew that Kamla, Ramlogan and Devant were being deviant. They remembered how Kamla had claimed victory when the High Court agreed to hear the UNC's application to nullify the general election results in five marginal constituencies. And even after the court ordered that the results stand, she still declared victory based on the censuring of the Elections and Boundaries Commission.
But that was hardly surprising. After all, the ex-Prime Minister had claimed victory in the 2013 local government elections in which the UNC had been comprehensively beaten.
While it is permissible to delude oneself if you so wish, or mislead your diehard supporters and sycophants if they are stupid enough to believe you, it is wrong to indirectly implicate a judge as being supportive of your legal misadventures, and further, to expose him to racial abuse.
I do not know Justice Seepersad except by his rulings that appear in the media, many of which I find sound. I do not believe he will surrender his judicial integrity on the altar of political or racial bias. Most judges err on occasion, which is why there are the Court of Appeal and the Privy Council.
I think I have the moral authority to call on those who are attacking the judge on the basis of race to stop it. If you must nail someone to the race-cross, look beyond the bench, into the gutter where politicians of a certain ilk wallow in filth.