By Raffique Shah
May 23, 2017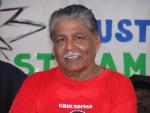 Finance Minister Colm Imbert must shoulder much of the blame for the fiasco that a relatively simple exercise, the submission of information for the valuation of properties across the country, has degenerated into. The overwhelming response by property owners to abide by the law, hence flock the few Valuation Division offices where they could drop off their forms or get help filling them out, should have surprised no one. That the ministry was unprepared for the rush is an indictment against the minister and his senior advisors.

Two weeks ago, in this space, I warned Imbert that there was no way Valuation could cope with an estimated 30,000 persons per day, even if all of them were simply dropping off completed documents. The minister, displaying his trademark arrogance, said he was not about to extend the deadline beyond May 22. He later backed off a bit, allowing an extra two weeks, which is still woefully inadequate. Ideally, as I wrote then, given that this was a completely new valuation exercise covering an estimated 600,000 properties, it might require one year.
I don't know if he and the Government felt that large numbers of citizens would heed the dotishness of the opposition, tear up the forms and refuse to comply with the law. That could be the only explanation for his high-handedness, threatening prosecution for those who failed to comply. If that was the rationale behind the duress he applied to the law-abiding, then it shows how little they know about the character-traits and culture of their own people.
Listen Sam, you really think people, especially from among the poorer and middle classes, took on Kamla Persad-Bissessar and her idiotic call for them to ignore the valuation exercise? From as far back as in colonial times, up until it was suspended in 2010, the one tax that people paid up early o'clock, meaning at the beginning of each year, was what was called Land and Building Tax-and I'll tell you why.
That humble-to-modest house on a lot or two of land, or a small acreage of agricultural land, was all these people owned. They weren't about to risk losing them to government because of their failure to pay property tax which they knew was universal: they might cheat on income tax (not evade-that's for the wealthy!), squeeze past VAT and so on. But challenge them on property tax and they will wave stacks of ancient receipts in your face.
So, except for a few thousand diehard Kamla supporters who deify her like "Kali Mai", people will pay property tax. What angers them is the abuse they must suffer as they seek to comply: hours-long queues with no shelter or seats, which could have been avoided if the exercise had begun immediately after passage of the last Budget. And what will anger them even more are the likely inconsistencies in valuation and other discriminatory, even corrupt, impositions from those charged with assessing properties and determining tax levels.
You know how it would hurt if you with your modest house have to pay more than others who own mansions but have "connections", or worse, people you know who escape the Property Tax net completely because of collusion with officials or the incompetence of those charged with administering the law?
Already, all regular employees in the private and public sectors, daily- and monthly-paid, bear the burden of personal income tax (PAYE), which is deducted by their employers before they are paid. Similarly, businesses big and small that operate above board contribute most to corporation tax and VAT. Tens of thousands of others, from self-employed tradesmen and small-but-lucrative vendors to top professionals and large business operators pay much less than they ought to, or nothing at all.
In other words, the law-abiding pay up, the lawless don't. And when you hear the latter moan about wastage of "mih tax dollars", you'd weep for them, or if you know, laugh at them.
These unjust loopholes in our tax laws that have been around seemingly forever must not be allowed to permeate the new property taxation system. The public officers who are charged with administering and policing the tax must be held to exacting standards. They must face stiff jail if they engage in unfair assessments or corruption.
Since the issue of the valuation forms and procedures is before the courts, I'll say no more on that. But on her curious, though not unexpected, stance on the Property Tax, I ask "Kali Mai" and her be-mansioned disciples: if you so believe that the Tax is punitive, why did you not repeal it during your five-year and three-month tenure when you had the requisite majority to so do?
I shan't comment further on Colm's know-it-all arrogance that has frequently landed him in trouble in his many political incarnations. You cannot teach and old dog new tricks, and the word humility does not exist in the dog-dictionary.
Woof! Woof!