By Raffique Shah
April 09, 2017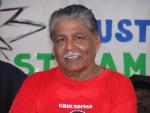 My friend Pablo (not his real name) is on the brink of bankruptcy. In fact, he has been teetering on the edge for six, seven years or so, managing somehow to stave off the banks, which is in itself an achievement, given the heartlessness of the decision-makers at financial institutions. But for a man who has worked hard to afford the little luxuries that many middle-income earners enjoy only in their latter years, he is facing uncertainties over whether he will survive to see his 70th birthday.

You are forgiven if you mistakenly believe that the Pablo I write about is a drug dealer whose only hard work was evading the police or paying them off, and who, as he gets older, cannot cope with the rigors of peddling dope. Or that he lived the life of a registered "locho", hustling money here and there, sources that have dried up over the years. You might even write off his financial fate to the current economic recession that has pauperised lots of retirees, among them professionals who, in their active years, lived exemplary lives.
No, Pablo falls into none of the above categories. His cardinal sin was responding to the calls by politicians, especially when they are or were in government, and to the injunctions of economists who authoritatively pronounce on everything they know nothing about, to start his own business. Worse for him, he decided that armed with a degree in management, he would get into con
After all, the gurus preached that too many tertiary-level graduates depended on finding employment with government or established businesses when they should instead be creating employment for others by investing in their own ventures. The big mistake Pablo made was to tailor his construction business to handle small government contracts.
Initially, he did well. He recruited a small workforce from retirees from WASA and skilled and unskilled workers who had had experience in repairing broken water mains, restoring roads, constructing buildings and other infrastructure. He raised the capital he needed to establish an office and buy a few pieces of equipment. With his own experience at different levels of management in several enterprises, he was ready to bid for contracts.
So he did-and he won some small ones, performed well, so much so he boasted to his friends, inviting them to inspect the projects he had completed. He even got paid on a reasonably timely basis. But within a decade or so, the small contractors' sub-sector got somewhat crowded, the rationale for awarding contracts shifted more towards who you knew rather than what you could do, and before Pablo knew it, senior officials at ministries and agencies like WASA who were empowered to authorise payment for work completed and verified became tyrants who frustrated rather than facilitated the process.
In essence, soon Pablo (and hundreds like him) was waiting for as long as years to receive payments from the Ministry of Works and WASA. The attitudes of those in charge were: take we to court, nah! Knowing well that was not an option because of the cost and additional time. And, if you did, it meant no more contracts for you.
Although he landed a few jobs since for which he was paid, all of his revenues went towards paying punishing overdraft interest to the bank, with little left to meet his living expenses. Luckily, his wife gets NIS pension. He hardly uses air-conditioning at home because of the cost, and the family has no social life-they can't afford it.
Meanwhile, the Ministry of Works, WASA and an NGO owe him approximately $1 million, and his overdraft charges at the bank are increasing daily.
Now, I know Pablo's story is not unique: hundreds of other small contractors are suffering similarly at the cruel hands of government and its agencies. In fact, overall, construction contractors are owed some $4 billion, although large firms will get by because of their resources. I should add to this sea of misery public sector retirees, many of whom wait for years before they receive their gratuities and pensions.
This cruel punishment has nothing to do with the current recession: in Pablo's case, he was owed money since Patrick Manning was in power. The PP Government did not pay him, although they generously rewarded their box-drain millionaires. And the current administration is pleading "no money" even as Colm Imbert boasts of "saving" $10 billion in fiscal 2016, and reports surface of the Ministry of Education sending an official and a small contractor to a bank with a $2 million cheque, demanding immediate payment to the latter.
Government must be condemned for punishing people in the ways I outlined above. Pensioners and senior citizens who have served the nation, and who are entitled to their just dues, be it fees for work done or retirement benefits, must be accorded priority-consideration.
Or is it that they are hastening the geezers' deaths so they won't have to pay up?