www.guardian.co.tt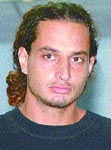 Vatang Agrunov
By Denyse Renne
An Israeli national has vowed to go on a hunger strike to protest his detention without bail after he appeared before a Port-of-Spain magistrate yesterday charged with stealing an immigration extension stamp valued at $500 from the Immigration Office, Frederick Street, Port-of-Spain.
Vatang Agrunov, 26, of Tel Aviv, Israel, told reporters he would refuse meals, as he was was led from the Port-of-Spain Magistrates Court to be taken to prison after Magistrate Maureen Gaffoor ordered he be remanded without bail because he was a flight risk.
The court heard that on November 3, Agrunov stole the stamp belonging to the T&T Government.
Agrunov pleaded not guilty to the charge and was remanded in custody until November 14, where arrangements would be made to contact his relatives who are currently in Caracas, Venezuela.
Upon hearing that he will be going to jail, Agrunov told the court that no embassy or his family or government knew of his arrest.
Adding that Hebrew is his native language and he was born in Russia, Agrunov told the court his plane ticket states that he had to leave Trinidad on November 10 and if he were to miss the flight, he would have no money to purchase another ticket.
However, Gaffoor maintained her position and said she was denying bail on the grounds that Agrunov does not have community ties and he is a flight risk.
At this point Agrunov, pleading with Gaffoor to go back to Israel, asked: "If I plead guilty, can I go back to my country?"
A stern Gaffoor answered, "This court does not accept convenient pleas. You said you did not steal the stamp when I first read the charge."
Before Gaffoor denied bail, the court heard from police prosecutor Cpl Samuel that at the time of his arrest, Agrunov told officers that he stayed with a friend at Spring Road, Five Rivers, Arouca.
Samuel said a check with Interpol was being conducted to verify the true identity of Agrunov and that fingerprints obtained from the Israeli national showed he had nothing pending nor any convictions in T&T. Adding that people at the address were familiar with Agrunov and he is in Trinidad legally, Samuel said Agrunov has until November 10, before his visitors pass to T&T expires.
Gaffoor then asked Agrunov the location of his fixed address since coming to Trinidad and a soft spoken Agrunov said, "When I first come to Trinidad, I was staying at a guesthouse in Port-of-Spain and the other time I was staying with a friend name Christopher."
However, Samuel interjected and told Gaffoor that Agrunov was found in a shack.
"My lady, the suspect was found in a shack with four walls and a roof. He was arrested in a shack. This is not a proper house," Samuel said.
The court further heard that Agrunov's passport as well as a plane ticket were being held by the Immigration Department.
Since being detained Agrunov has been questioned by officers of the Special Anti-Crime Unit, Special Intelligence Unit, Criminal Investigations Department and Interpol.
He was charged by Cpl Leroy Baptiste.
http://www.guardian.co.tt/news5.html
©2004-2005 Trinidad Publishing Company Limited