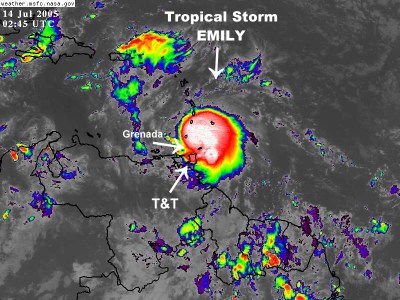 955 PM AST WED JUL 13 2005
EMILY BECOMES A HURRICANE
HURRICANE WARNINGS ISSUED
AT 14/0108Z...908 PM AST...A UNITED STATES AIR FORCE RECONNAISSANCE
AIRCRAFT MEASURED PEAK 850 MB FLIGHT LEVEL WINDS OF 79 KTS... WHICH
CORRESPONDS TO ABOUT 63 KT...OR 73 MPH...AT THE SURFACE....WHICH IS
ON THE THRESHOLD OF HURRICANE FORCE. ADDITIONALLY...ADJUSTMENT OF
A DROPSONDE WIND PROFILE TO THE SURFACE INDICATES SURFACE WINDS OF
ABOUT 80 KT...OR ABOUT 92 MPH. THIS INTENSITY INCREASE WILL BE
REFLECTED IN THE ADVISORY TO BE ISSUED BY 11 PM AST...0300Z.
AT 955 PM...0155Z... THE RESPONSIBLE GOVERNMENTS HAVE ISSUED
HURRICANE WARNINGS FOR GRENADA...ST. VINCENT AND THE
GRENADINES...AND ST. LUCIA.
FORECASTER KNABB