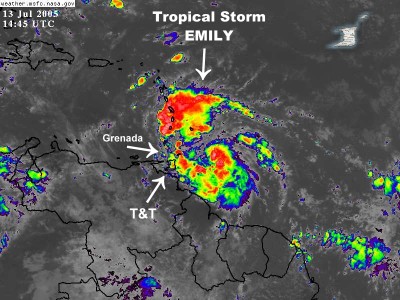 A Hurricane Warning remains in effect for Tobago, Grenada, The Grenadines, St. Vincent and St. Lucia.
A Tropical Storm Warning and a Hurricane Watch remains in effect for Trinidad.
The government of Venezuela has issued a Tropical Storm Watch from Cumana to Caracas including the offshore islands north of the watch area.
000
WTNT35 KNHC 131516
TCPAT5
BULLETIN
TROPICAL STORM EMILY ADVISORY NUMBER 11...CORRECTED
NWS TPC/NATIONAL HURRICANE CENTER MIAMI FL
11 AM AST WED JUL 13 2005
...CORRECTED OMISSION OF TROPICAL STORM WARNING FOR BARBADOS.
...EMILY CONTINUES WESTWARD WITH LITTLE CHANGE IN STRENGTH...
AT 11 AM AST...1500Z...THE GOVERNMENT OF VENEZUELA HAS ISSUED A
TROPICAL STORM WATCH FROM CUMANA TO CARACAS...INCLUDING THE
OFFSHORE ISLANDS NORTH OF THE WATCH AREA.
A HURRICANE WARNING REMAINS IN EFFECT FOR TOBAGO...GRENADA...
THE GRENADINES... ST. VINCENT...AND ST. LUCIA.
A TROPICAL STORM WARNING AND A HURRICANE WATCH REMAINS IN EFFECT FOR TRINIDAD.
A TROPICAL STORM WARNING REMAINS IN EFFECT FOR BARBADOS AND THE
NORTHERN COAST OF VENEZUELA FROM PEDERNALES WESTWARD TO
CUMANA...INCLUDING ISLA MARGARITA.
A TROPICAL STORM WATCH IS IN EFFECT FOR MARTINIQUE.
INTERESTS ELSEWHERE IN THE CENTRAL CARIBBEAN SHOULD MONITOR THE
PROGRESS OF EMILY.
A HURRICANE OR TROPICAL STORM WARNING MEANS THAT HURRICANE OR
TROPICAL STORM CONDITIONS...RESPECTIVELY...ARE EXPECTED WITHIN 24
HOURS. A HURRICANE OR TROPICAL STORM WATCH MEANS THAT HURRICANE OR
TROPICAL STORM CONDITIONS...RESPECTIVELY...ARE POSSIBLE WITHIN 36
HOURS.
FOR STORM INFORMATION SPECIFIC TO YOUR AREA...PLEASE MONITOR
PRODUCTS ISSUED BY YOUR LOCAL WEATHER OFFICE.
AT 11 AM AST...1500Z...THE CENTER OF TROPICAL STORM EMILY WAS
LOCATED NEAR LATITUDE 11.2 NORTH... LONGITUDE 58.1 WEST OR ABOUT
165 MILES... 270 KM... SOUTHEAST OF BARBADOS AND ABOUT 225 MILES...
360 KM...EAST-NORTHEAST OF TRINIDAD.
EMILY IS MOVING TOWARD THE WEST NEAR 20 MPH ...32 KM/HR...AND A WEST
TO WEST-NORTHWESTWARD MOTION IS EXPECTED OVER THE NEXT 24 HOURS. ON
THE FORECAST TRACK...THE CENTER OF EMILY WILL BE PASSING THROUGH
THE SOUTHERN WINDWARD ISLANDS THIS EVENING.
MAXIMUM SUSTAINED WINDS ARE NEAR 60 MPH... 95 KM/HR...WITH HIGHER
GUSTS. EMILY STILL HAS THE POTENTIAL TO REACH HURRICANE STRENGTH
BEFORE IT CLEARS THE WINDWARD ISLANDS.
TROPICAL STORM FORCE WINDS EXTEND OUTWARD UP TO 90 MILES
...150 KM...MAINLY TO THE NORTHEAST AND SOUTHEAST OF THE CENTER.
ESTIMATED MINIMUM CENTRAL PRESSURE IS 1003 MB...29.62 INCHES.
EMILY IS EXPECTED TO PRODUCE TOTAL RAIN ACCUMULATIONS OF 3 TO 6
INCHES ACROSS THE WINDWARD ISLANDS AND PORTIONS OF THE NORTHERN
COASTAL AREA OF VENEZUELA...WITH POSSIBLE ISOLATED AMOUNTS OF 12
INCHES OVER MOUNTAINOUS TERRAIN. THESE RAINS COULD PRODUCE
LIFE-THREATENING FLASH FLOODS AND MUD SLIDES.
COASTAL STORM SURGE FLOODING OF 1 TO 3 FEET ABOVE NORMAL TIDE
LEVELS CAN BE EXPECTED NEAR AND TO THE NORTH OF THE PATH OF THE
CENTER.
REPEATING THE 11 AM AST POSITION...11.2 N... 58.1 W. MOVEMENT
TOWARD...WEST NEAR 20 MPH. MAXIMUM SUSTAINED
WINDS... 60 MPH. MINIMUM CENTRAL PRESSURE...1003 MB.
AN INTERMEDIATE ADVISORY WILL BE ISSUED BY THE NATIONAL
HURRICANE CENTER AT 2 PM AST FOLLOWED BY THE NEXT
COMPLETE ADVISORY AT 5 PM AST.
FORECASTER FRANKLIN