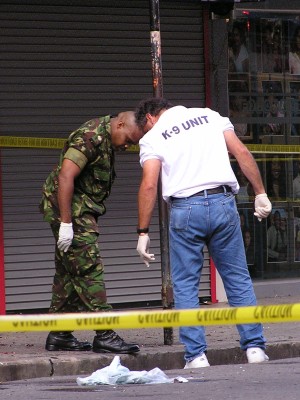 Officer from the K 9 Unit and an Army Officer at the scene of the Explosion
U.S. embassy officials are assisting local police officials in investigating the blast in Port of Spain. U.S. security personnel and local police are presently going through the rubble.
Some sources claim that the blast was as a result of two hand grenades that were placed in a garbage bin at the corner of Queen and Frederick Street Port of Spain.
There are reports of a bomb threat at the Trincity Mall, Churchill Roosevelt Highway Trincity.