Soca Warriors Day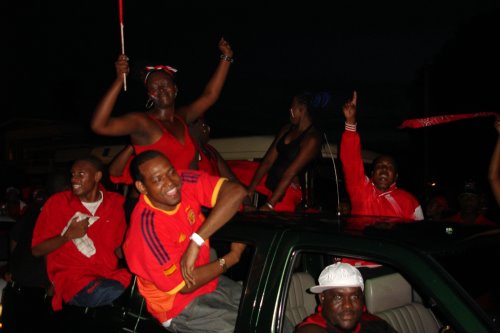 Soca Warriors Day - Photos
By MELISSA WONG
IT WAS THE largest street fete ever to take place in Port-of-Spain outside of the Carnival season, as thousands upon thousands of football fans converged on the Brian Lara promenade to greet the Soca Warriors, who arrived in the city at 10 pm on Thursday night.
The long delay was caused by a traffic pile-up from the Piarco International Airport, as up to 6.45 pm Thursday night, the Soca Warriors motorcade was stuck in traffic at Golden Grove, Arouca.
From as early as 1 pm yesterday, fans clad in red, black and white converged on Port-of-Spain as the TT Soca Warriors returned from Bahrain having qualified for the World Cup Finals in Germany next year. By 3 pm, the masses both young and old gathered on South Quay and Broadway Street, jumping to soca from a music truck, turning the streets into a sea of red. At the far end of the Brian Lara promenade, opposite the Central Bank, fans stood waiting in vain for hours to catch a glimpse of the team. Every now and then someone would shout, "They coming, they coming," only to hear that the football team was still at Piarco Airport.
During their long wait, the fans were entertained by 2005 Panorama champs Petrotrin Phase II Pan Groove, Sagicor Exodus, and Neal and Massy TT All Stars.
As the Soca Warriors made their way into Port-of-Spain up St Vincent Street on a long trailer to the sounds of "T and T we want a goal," which was played by Petrotrin Phase II Pan Groove, the massive crowd went into a frenzy. Barricades and yellow caution tape which were hung around the stage to keep the crowds at bay were knocked down by supporters who wanted a closer view of the players. Police tried to subdue the crowd but were overpowered by the massive forces as fans rushed out wildly onto the streets. Prime Minister Patrick Manning and his wife Hazel Manning accompanied the Soca Warriors on their trip to Port-of-Spain and were greeted by Culture Minister Joan Yuille-Williams and Minister of Sports and Youth Affairs, Roger Boynes.
Manning delivered the same speech which he gave at the airport, and even gave the public false hope that he might have made Friday another holiday. Smiling at the crowd Manning said, "Parliament meets at 10.30 am. Come out to work early in the morning."
The Soca Warriors then took a last jump up at about 10.45 pm with the crowd to Maximus Dan's "Soca Warrior" before they were taken to their hotel.
http://www.newsday.co.tt/stories.php?article_id=30857
Soca Warriors Celebrations - Photos
www.triniview.com/album/WC-Celebrations-161105