Soca Warriors Day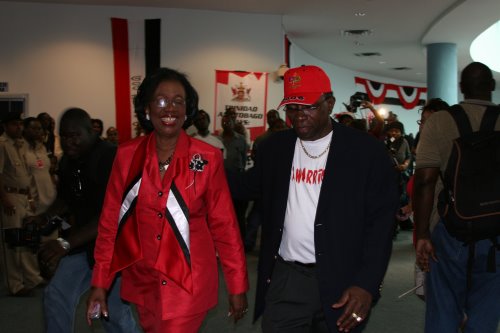 Left: Senator Joan Yuille Williams and Jack Warner
By Terry Joseph, trinicenter.com/Terryj
Patriotism is best defined as standing up for one's country; literally what FIFA vice president Jack Warner demonstrated Wednesday, by refusing to sit in the VIP box with the King of Bahrain, after that country's Football Association (BFA) barred Trinis from supporting the Warriors in accustomed fashion; a ruling quashed in time to avoid a predictably embarrassing picture.
You see, football was not the only thing happening in Bahrain. On Monday, His Majesty the King, Hamad bin Isa Al Khalifa, received Trinidad and Tobago President George Maxwell Richards, holding cordial talks about improving already friendly relations and praising the role of sport in developing cooperation between youth.
Present were Minister of the Royal Court, Shaikh Khalid bin Ahmed Al Khalifa, the General Organisation for Youth and Sport president, Shaikh Fawaz bin Mohammed Al Khalifa, and BFA president, Shaikh Salman bin Ibrahim Al Khalifa. On the day following, Prime Minister, Shaikh Khalifa bin Salman Al Khalifa hosted President Richards, echoing the King's sentiments, emphasising gratitude for hospitality showed to his people during their time here.
These photo opportunities having been satisfied, the BFA president swiftly turned his attention to demoralising the Warriors and their supporters, his people coming up with the pan ban to dampen visitor zeal, citing security concerns in a scenario where King Hamad bin Isa Al Khalifa's decree that all Bahrainis should see the game for free, led to stadium gates being left unmanned. In fact, the very security officers hid in the tunnel when a riot broke out, with disappointed spectators ripping out seats and throwing them on to the field.
Mere hours before kick-off, Jack called to say the situation had been resolved and he would be in the box, scoring a victory in the psychological warfare unleashed by the Bahrainis, whose intimidating tactics included assigning to Trini supporters seats behind one of the goal posts and giving our Warriors only five footballs with which to practice instead of the ten stipulated by FIFA.
Jack was furious over the BFA attempt to renege on an agreement secured more than two weeks before the game, permitting Angostura Woodbrook Playboyz steelband and the Laventille Rhythm Section to maintain a tempo during the match; the Bahrainis arguing that allowing it would comprise a complex issue. In the end, we won and then we won again.
Speaking to Jack late Wednesday, he became audibly emotional as I described the celebration in Port of Spain after Trinidad and Tobago's historic ascendancy to the World Cup Finals, saying anything he had done was not for self but for his country. Indeed, he has contributed more than most and in measure not limited to personally funding the Warriors' training, while awaiting Government's decision on the level of comfort it would accord the home-team.
Actually, Jack had earlier been boxed-in from another perspective too, given the withdrawal of interest in playing for T&T by Shaka Hislop, Russell Latapy and Dwight Yorke, resulting from disputes between him and these key players. Concacaf president and an independently wealthy businessman, Jack needn't have bothered but, thinking outside the box, he summoned up the humility required to heal all differences, so Trinidad and Tobago could put its best feet forward.
Then just last week, when members of the public experienced major frustration in attempting to secure tickets for the home game against Bahrain, Jack took the blame, saying only that purchasers did not have faith in the system.
Media images indicated shared culpability, although unsuccessful buyers completely absolved gate-crashing hooligans of any responsibility for order, blaming the LOC exclusively, as if civilised people routinely break down fences when acquiring tickets for sporting events.
All this is truly wonderful and should rank for this country's highest honour but Jack's refusal to fraternise with Bahraini royalty in the VIP box, if they continued to refuse permission for our rhythms to rally the Trini posse into a chorus of team support, is far nobler; having defended this country's national musical instrument in a way few of his contemporaries in business or politics can truthfully claim.
Of course, the Warriors played magnificently, bringing home victory in fine style, goalkeeper Kelvin Jack vindicating coach Leo Beenhakker's decision to put him in the box, by defending that territory in spectacular fashion.
But consider what the game's outcome might have been if our players and on-site supporters were denied the rhythms that have become part of their own psychological drive, and the picture of Jack in the box says even more.
Welcome Home Soca Warriors, Video Clips:
Video 1 - Video 2 - Video 3 - Video 4
Soca Warriors Day - Photos
www.triniview.com/album/WC-Celebrations-161105