Onika on life support as doctors predict 'slim chance'
By Nalinee Seelal, www.newsday.co.tt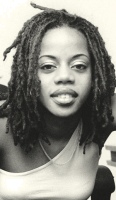 ONIKA BOSTIC, lead female vocalist with the Antiguan band Burning Flames remained "brain dead" at the Intensive Care Unit of the Port-of-Spain General Hospital yesterday, following a vehicular accident which left her pinned in the left front passenger seat. The 24-year-old Woodbrook woman suffered massive head injuries and was rushed to the Port-of-Spain General Hospital in an unconscious state. Emergency surgery was carried out yesterday and doctors tried to stop the haemorrhaging and swelling in the brain, but late yesterday, she was pronounced clinically dead. Jacinta Bostic, mother of the popular soca singer said yesterday she was praying and hoping for a miracle.
She was comforted by scores of soca artistes who gathered at the Port-of-Spain General Hospital to lend support to Bostic's relatives. A weeping Jacinta was allowed to spend a few minutes with her daughter, who was hooked up to a life support machine. Although she left for her Woodbrook home yesterday morning, she returned later to be at her daughter's bedside. Only immediate family members were allowed to spend short moments with her. Doctors attending to Onika would only reveal that she was still alive but in a comatose state. Bunji Garlin, a close friend of the singer described her as one of the talented young women of Trinidad and Tobago. He attempted to get to her bedside at ICU but was prevented from doing so.
Iwer George, a close friend of Bostic, along with singers Keisha Stewart of Byron Lee, Gail Ann of the band The Godfather's Asylum, Precious, Nadia Batson, Faye Ann Lyons and others were on hand to lend support to the Bostic family. They said that they were praying and hoping for a miracle. By visiting time at 3.30 pm yesterday, more soca artistes, friends and well wishers of Bostic had gathered outside ICU in a bid to share a brief moment with the singer, but were prevented from doing so by hospital personnel. Police reports on the accident revealed that around 1 am, yesterday vehicle PBJ 489, driven by Reynold Joseph of 5, Rodney Street, East Dry River, was proceeding west along the Eastern Main Road, Laventille, when on reaching close to Erica Street, the car skidded on the wet road, hit a wall on the northern side, capsized, and landed on the hood. Onika Bostic, the passenger on the left front seat was pinned and suffered massive head injuries while Joseph, suffered cuts and bruises. Sunday Newsday learnt that Bostic and Joseph were on their way to the Base nightclub at Chaguaramas when the accident occurred. Officers of the Besson Street Police Station are investigating. Bostic's single "All is yours" is currently ripping up the charts.