When Barbados takes goods and services from Trinidad, it is not because the Government there wants to do Trinidad favors, but most often it is because the goods and services are cheaper or better.
Often, Barbados is a hostile place to Black Trinidadians especially as most of its people depend on Tourism which is White people driven. When I was there a few years ago they had little understanding of a Black tourist and were hostile towards Black Trinidadians. I excused this behaviour because of their close ties to their colonial past.
But this fishing issue is another deal. If Barbados, the land of the flying fish, can no longer live up to that title it is either because of poor fish management/over fishing and or the fishes got smart and now chill in Tobago. In which case Tobago is the land of the flying fish, plain and simple, until the fishes choose to return.
But under no condition should this Trinidad government neglect the interest of the Trinidad and Tobago fishermen in favour of helping Owen Arthur get reelected. They will just have to enter negations with the government of Trinidad and Tobago who should first take into consideration the interest of the local fishing industry before making any concessions to Barbados.
It is Carnival season over here where robber-talk is plentiful so his talk may get lost in the festivities. Mr Arthur is doing like all other politicians by distracting his people. One wonders if he would go as far as Bush and start a war to improve his ratings.
PS: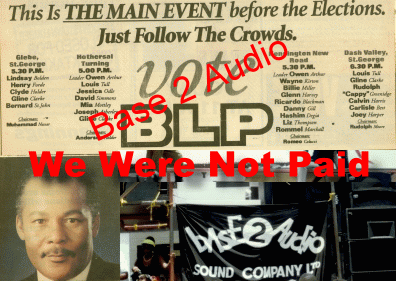 "Follow the crowds" was the slogan for the election that saw Owen Arthur become the Prime Minister of Barbados in 1994. Base 2 Audio from Trinidad and Tobago provided PA Services and Music.
The sound company from Trinidad and Tobago, Base 2 Audio, which did the sound systems for the BLP party that saw Mr Owen Arthur become the Prime Minister, was never paid one cent of the agreed figure.
Arthur Lewis the then owner of Base 2 Audio Sound company said, "It is my opinion that Mr Owen Arthur may not be aware that we were never paid, especially since we were contracted through the owner of After Dark. After making several trips to Barbados the owner of the After Dark entertainment center could not be found and we were never paid."
I hope Mr Owen Arthur can give this matter some consideration.
Contact: 1-868-628-7392