Explosion in Port of Spain
Posted: Monday, July 11, 2005 - 2:58 p.m.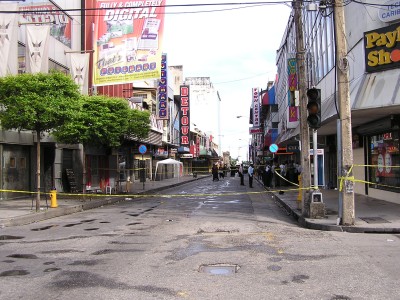 Area of the explosion on Frederick Street Port of Spain

There has been an explosion that appeared to come from a bin outside Maraj and Sons jewelers on Frederick Street, just before Photo Mart. Several persons were injured, two critical. Traffic has been diverted away from Frederick Street. Many businesses are closed and there is a heavy police and ambulance presence in Port of Spain. Commuters are asked to seek alternative routes through the city.

~~~~~~~~~~~~~~~~~~~~~~~~~~~~~~~

Update: 4:13 p.m.

At this time there is no rush or panic in Port of Spain. People are making their way home as businesses in Port of Spain closed. The police cordoned off the area in Port of Spain where the explosion occurred to do their investigations.

Fourteen persons were injured in the explosion, at least two with serious injuries.

~~~~~~~~~~~~~~~~~~~~~~~~~~~~~~~

Update: 4:28 p.m.

Latest news reports reveal that National Security Minister Martin Joseph is on his way to brief Prime Minister Patrick Manning at his office. Martin Joseph left an anti-Terrorism meeting in Tobago to view the blast site.

When questioned about the explosion, Minister Joseph said he is not in a position to say anything at this time. He said that the anti-terrorism bill, which is before the parliament, has been sent to a select committee of the senate.

He urged the public to stay away from the blast site and said that the police are doing everything to ensure public safety. He emphasized that there is no need to panic and they are doing everything in their power to find out the cause of this explosion.

~~~~~~~~~~~~~~~~~~~~~~~~~~~~~~~

Update: 4:46 p.m.

Prime Minister Patrick Manning in an official statement advised the public to remain vigilant. Citizens are advised to be aware of any suspicious persons or packages and report any such activities.

It has also recently been confirmed that at lest one bomb threat had been received earlier on in the day at the Trinidad and Tobago Manufacturers Association (TTMA).

~~~~~~~~~~~~~~~~~~~~~~~~~~~~~~~

Update: 5:34 p.m.

So far fourteen persons have been confirmed injured; in critical condition is a sixty-five year old female watch vendor who usually plies her trade at the corner of Queen and Frederick Streets Port of Spain. Also critically injured is a thirty-five year old male who is reported to have been shot in the abdomen soon after the explosion. So far there have been no details on the identity of the shooter.

It has also been confirmed that there was a second bomb threat at the ministry of National Security this morning.

~~~~~~~~~~~~~~~~~~~~~~~~~~~~~~~

Update: 6:00 p.m.

U.S. embassy officials are assisting the local police in investigating the blast in Port of Spain. U.S. security personnel and local police are presently going through the rubble.

Police sources said the blast came from a hand grenade that was placed in a garbage bin at the corner of Queen and Frederick Streets, Port of Spain.

There are reports of a bomb threat at the Trincity Mall, Churchill Roosevelt Highway Trincity.

Photos of Port of Spain following the bombing: www.triniview.com/album/explosion110705

~~~~~~~~~~~~~~~~~~~~~~~~~~~~~~~

News: July 12, 2005

Port of Spain 7/11 and Aftermath
trinidadandtobagonews.com

Bomb in the City newsday.co.tt
- Reprinted on the Message Board

New threat to our society
newsday.co.tt

15 injured in Frederick Street blast
trinidadexpress.com

Hundreds flee after explosion
trinidadexpress.com

Three senior cops to probe blast
guardian.co.tt

Updates on the Message Board








Homepage


Trinidadandtobagonews.com is a not-for-financial-profit website.
We encourage persons to reproduce, reprint, or broadcast Staff articles, links, bylines and comments provided that any such reproduction is done in a not-for-profit media and identifies the original writer and source. Some articles on our websites are reproduced under the fair use policy. Check with writers for permission to reproduce articles beyond fair use.