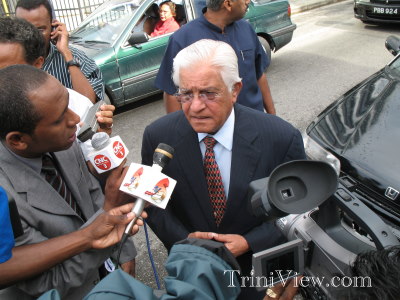 Basdeo Panday on his way to court yesterday
More pictures here...
Staff Article
April 25, 2006
Although a somber day for some, others celebrated when Basdeo Panday, the former Prime Minister, and Opposition leader of Trinidad and Tobago was found guilty yesterday on all three counts of failing to declare a London Bank account to the Integrity Commission for the years 1997, 1998 and 1999, which was a violation of Section 27 (1) (b) of the Integrity in Public Life Act of 1987.
Mr. Panday received a sentence of six years imprisonment; two years for every count which are to run concurrently. Lead defense attorney Desmond Allum insisted that the court take into account that Mr. Panday was not brought up on corruption charges but rather on his failure to declare his assets. He also asked the court to take note of Mr. Panday's "impeccable character" and that his public service be considered when determining the judgment. Despite lead defense attorney Desmond Allum's plea for bail and for a reduction in sentence to community service, these were denied by the court, but not before Allum gave notice of their intention to appeal the decision of imprisonment which would be taken to a judge in chambers on Friday.
In this regard, the former Prime Minister would spend the next few days behind bars at the Maximum Security Prison, Golden Grove until his lawyers can secure his bail.
In addition to his imprisonment, Panday was fined $60,000 ($20,000 for each count), failure of which, he would serve an additional sentence of three years hard labour.
Moreover, Mr. Panday was ordered to pay the state about TT$1.6 million by way of forfeiture, representing the money Mr. Panday failed to declare to the Integrity Commission.
This verdict was handed down by Magistrate Sherman McNicolls at the Port-of-Spain Eight Magistrates Court at about 10.30 Monday morning.
This verdict may affect Panday's political career in that, and in the words of Professor John La Guerre, his de facto leadership would have to be re-examined. Professor La Guerre also stressed that it could act as a fetter to the development of the UNC.
Some have cried injustice and even called for a Presidential pardon for Mr. Panday because of his long-standing service as a trade unionist, and his service as the Prime Minister and the Opposition Leader of Trinidad and Tobago. Only time would tell if such sympathies are felt by the highest powers of the land and could translate into a pardon.
Furthermore, Mr. Panday's incarceration has put the stability of the UNC into further question. Mr. Panday, despite this controversy, is regarded by many as the backbone of the UNC, and as such, the end of Mr. Panday's leadership may mean to some the end of the party.
According to the constitution of Trinidad and Tobago, Section 49 2D and 3 deals with the Tenure of Office of Members. It states that a member of Parliament has to be disqualified if he or she is under sentence of death imposed on him by a court or is serving a sentence of imprisonment exceeding 12 months or substituted by competent authority for some other offence or is under such a sentence of imprisonment, the execution of which has been suspended. However, if the court's decision is being appealed with or without the leave of the court or other authority, the Member shall not vacate his seat until the expiration of 30 days, which means he will not lose his seat but he cannot function as an MP.
Last night, an executive meeting of the UNC was held at the Rienzi Complex in Couva to attempt to determine the fate of the party among other things such as the possible appointment of a new political leader.
It is the first time in the history of Trinidad and Tobago that a former Prime Minister has been found guilty of criminal activity and sentenced for a breach of the law.