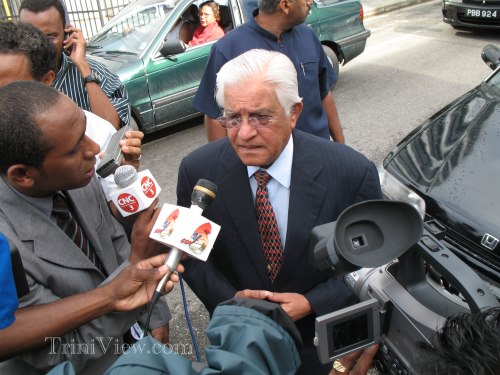 Basdeo panday on his way to the court
Former Prime Minister, UNC chairman and Opposition Leader Basdeo Panday has been found Guilty by Magistrate Sherman McNicolls at the Port-of-Spain Eighth Magistrates Court.
Mr. Panday was charged with deliberately failing to disclose a London bank account, held jointly by himself and his wife Oma Panday, to the Integrity Commission for three consecutive years, 1997, 1998 and 1999, while he served as Prime Minister of Trinidad and Tobago.
Mr. Panday received 2 years hard labour for each of the three counts, which will be severed concurrently, and he was denied bail. He was also fined $60,000. If he does not pay the fines he would be sentenced to a further 3 years hard labour. He was also ordered to pay to the state the sum of $1.5 million which represents the cost incurred by the state to try the case.
The verdict was delivered at about 10.30am today.
Developing....