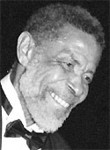 Clive Bradley
by Terry Joseph
Master musician Clive Bradley, internationally revered for his work as arranger for the Witco Desperadoes steel orchestra, passed away yesterday at Port of Spain General Hospital, four days after suffering a stroke at home.
As news of his passing spread, calls, queries and tributes poured in from everywhere. The Sunday Express received telephone calls from Cliff Alexis of Northern Illinois University, fellow keyboardist Raf Robertson in Washington DC, career pan fan Gaston Maloney from Grand Cayman, and Pamberi's Nestor Sullivan.
Dr Pat Bishop's description of Bradley embraced all the emotions that surfaced yesterday. "He bestrode the world of the arranger like a Colossus," Dr Bishop said. "Nobody handled the minor-key mode like Bradley. Nobody could make you weep at Panorama which, of course, is supposed to be a time of unbridled joyousness, but he captured the tragic underside of the human condition and gave it a voice that was utterly awesome, authentic and Trinidadian."
Bradley, who celebrated his 69th birthday three weeks ago, was, up to Friday, described as stable and resting comfortably at Ward 31, although his muscle control and breathing were said to be laboured.
Pan Trinbago president Patrick Arnold, who was in Tobago yesterday, described Bradley's passing as "a major blow to not just Desperadoes but the steelband community as a whole".
"Bradley's work always stood out as a benchmark in pan," Arnold said. "From his earliest association with the steelband movement, he stamped his imprimatur on every musical arrangement. He is remembered for his work with Desperadoes with the same reverence that people still talk about what he did with "High Mas" for Nu Tones or "Sailing" for Pandemonium steel orchestra, or the bands he worked with in New York.
"Having that kind of influence on Panorama competitions both at home and abroad is the mark of genius and all who have any association with pan will admit that his interpretation of any tune was looked forward to from well before the first note is struck. We shall all miss him as a major contributor to the steelband community and furtherance of steelband music at large," Arnold said.
Earlier this year, Bradley scored the double in New York at the Panorama competition associated with Labour Day celebrations, when the two bands for which he arranged - Pantonic Steel Orchestra and D'Radoes Steel Orchestra - took first and second place honours, respectively.
Shortly after that remarkable feat, Bradley ushered Desperadoes to top berth in the Northern Region play-off in the Republic Pan Fiesta, playing his interpretation of Natasha Wilson's, "One Day", joking with a reporter afterward that he could get used to winning. Earlier this year, at the Pan in the 21st Century contest, he also ferried Desperadoes to winners' row, that time with John Legend's blockbuster "Ordinary People". His last major work with Despers was for last month's Trinidad and Tobago Steelpan Jazz Festival, where the band shared the opening night stage with multiple Grammy Award winner Al Jarreau and master calypsonian David Rudder.
Ironically, for the jazz festival, Bradley reworked the song "Party", which he originally composed and arranged in 1982 both for calypsonian Nelson and Desperadoes, the piece that earned him nationwide attention in both genres. He had only just been introduced to Nelson by Michael Boothman but had worked with Desperadoes before after being taken up the hill by Roy Cape at the request of the band's captain, Rudolph Charles.
Cape, who knew Bradley for the past 45 years, was audibly emotional when he spoke to the Sunday Express: "We met in 1960 and used to bounce-up frequently on the nightclub circuit."
Cape added: "He was a regular at the Waldorf Club on Park Street and I was with the Clarence Curvan orchestra and then with Ron Berridge's band. In 1967, Bradley and I formed a band called Sounds Incorporated with members who left both those orchestras.
"The band collapsed when Felix Roach offered some of us regular work at Hilton but Rudolph Charles had asked me to find an arranger for Desperadoes and I had taken Scipio Sarjeant there in 1967 but, after doing 'Governor's Ball' and bringing the band into second place, he left for New York and Desperadoes was without an arranger again, and Rudolph called me again and that time I took Bradley.
"The first song he did with Despers was 'Mr Walker' but he went to New York too and, in 1970, Despers had another arranger again, Lubert, but Bradley came back in the middle of the season and members of the band unanimously voted to have him take over the work. The rest of Bradley and Desperadoes is history."
"Without doubt, he is one of the greatest arrangers the steelband world has ever seen. Unlike a number of people who left pan to go into brass bands, Bradley did it the other way around and was successful in both situations," Cape said. "He was self-taught and came to be a teacher, which tells you how much of a command he had." A theme song developed by Bradley for Roy Cape & the Kaiso All Stars, which the band played for ten of its years with Calypso Spektakula, will be revived next Carnival season in tribute to Bradley.
Easily one of the most important music figures in the history and development of steelband music, Bradley is equally well-remembered for his compositions; the period during which he taught mathematics at his alma mater, Fatima College; his work with several brass bands (including his own group The Bradley Bunch); and, importantly, for his assistance to Pelham Goddard, who evolved into one of this country's most successful pan and calypso arrangers.
Bradley's musical arrangements have taken Desperadoes to Panorama's top rung on several occasions, most notably with Kitchener's "Pan in Harmony" (1976) and "Hasely Crawford" (1977), Blueboy's "Rebecca" (1983) and Oba's "In My House" (1999) and "Picture On My Wall" (2000), the latter two coming after a spectacular win with the hitherto lowly ranked Arima Nu Tones' interpretation of David Rudder's "High Mas" (1998).