Re-enactment of an Old Time Wedding in Moriah, Tobago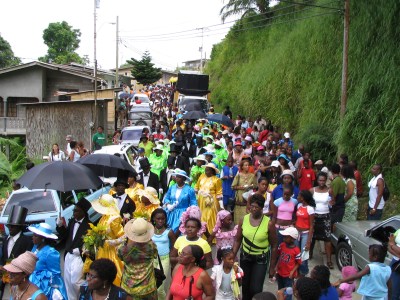 By KARL E CUPID
http://www.newsday.co.tt/stories.php?article_id=27859
All the ingredients were in place — heaps of food and drink, lots of people, music of the "old school" kind, daintily clad guests, the village "maccos," and, of course, a bride and groom.
And they all came together under sizzling heat and perspiration-dripping sunshine as the RBTT-sponsored Old Time Wedding re-enactment, the flagship of the annual Tobago Heritage Festival, took centre stage at Moriah last Saturday.
Of course, as it was then, and still very much with us today, the weeping and wailing of the "discarded" woman with two children at her side at the wedding "reception" as she confronted the now flustered bridegroom.
"Just last night, ah Fitzroy," she cried. "You wicked!" she declared, informing all and sundry that not only had he fathered her two children, but there was "another one on the way," Not unexpectedly, Fitzroy would deny all knowledge of the woman's claims.
But his mother would immediately acknowledge the children's striking resemblance of her son and berate him publicly, while consoling the "left-out" woman and pledging to take care of the little ones and her grandchildren.
Photos:
Re-enactment of an Old Time Wedding in Moriah
http://www.triniview.com/album/Moriah