By RHONDOR DOWLAT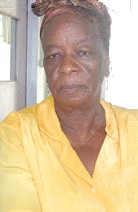 SHE'S being dubbed Super Granny for wrestling a gunman to the ground and preventing the possible murder of her grandson.
Elise Joseph, 73, was hailed yesterday in her Village — Vessingy, La Brea, as Super Granny.
When the lone gunman burst into her home around 12.25 am, he shot and wounded Anthony Joseph, 28.
Police said the attack stemmed from a dispute over a $10 debt owed from a card game between Joseph and the gunman hours earlier on Monday night.
The gunman went looking for Anthony at his home. What transpired when the gunman arrived in front Anthony's house, police said, could be likened to graphic scenes from a James Bond movie. The gunman called out to Anthony, who at the time, was asleep with his wife and family downstairs his grandmother's house.
Anthony was greeted by the sound of gunfire, police said. He was shot in the left leg. According to the report, a struggle ensued and Anthony was again shot.
The commotion woke up grandmother Joseph. "When I heard the noise," she said, "I jumped out of bed and pushed open the backdoor. I saw Anthony bleeding from his leg and trying to fight off a man wearing a mask over his face," Joseph said.
Yesterday, while visiting Anthony at the San Fernando General Hospital where he is warded, Joseph recalled her brazen attempt to save her grandson's life. Joseph said she ran downstairs. She came upon both grandson and the gunman on the ground, the gun in the gunman's hand was swaying dangerously. The grandmother said she threw herself between both men.
Joseph told Newsday that she held the gunman's both hands and did not let go.
Yesterday, she pointed to two red and blue marks on her hand. One on her thumb and the other when he snapped at her forearm. "Despite all that biting and with the man's teeth sinking into my skin, I did not let go," Joseph said.
She managed to push him to the ground, for according to Joseph, the man was smaller than her in built. The woman said she sat on top of the attacker. But as he struggled, Joseph said, she squeezed the man's throat. "I just wanted to hold on to this man until the police come," she said. The woman related, "Everytime he made an attempt to get up, I squeezed his throat." She held on to the gunman's throat so tight, that he began to plead for a moment of fresh air.
"At one point, the man tell me, 'Mammy, ah cyah breathe.' Well ah tell him: 'Well, you don't bound to breathe."
Joseph said that she kept her hands around the man's throat while Anthony lay on the ground bleeding. On his hospital bed yesterday, Anthony told Newsday that he remembered pleading with his grandmother, "Keep him there! Keep him there!"
La Brea police arrived at the home within 15 minutes and arrested the attacker. He was taken to the La Brea Police Station where five charges were slapped on him. The charges include: possession of firearm; possession of ammunition; wounding with intent; possession of firearm to endanger life; possession of ammunitions to endanger life;
Anthony, who sustained gunshot wounds to his left leg and left arm, was rushed to the San Fernando General Hospital where he was treated and warded in a stable condition.
Expressing eternal gratitute to his grandmother, Anthony told Newsday from his hospital bed, "Mammy, you save my life, and I love you, I love you." Grandmother Joseph, holding his hand, replied, "I glad with what I did, and I would do it again."
http://www.newsday.co.tt/stories.php?article_id=27349