Oma, Carlos, Ish charged with corruption
Panday goes to jail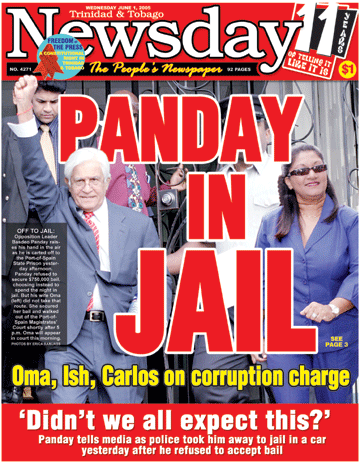 By Francis Joseph, newsday.co.tt
FORMER Prime Minister Basdeo Panday spent last night at the Port-of-Spain State Prison after he refused to secure $750,000 bail. He had appeared in court on a corruption charge.
But his wife Oma, former Government minister Carlos John, and businessman Ishwar Galbaransingh gladly accepted their bail and were out of the Port-of-Spain Magistratesí Court in a flash. Galbaransingh and John were charged with corruptly giving 25,000 pounds Sterling to the Pandays as an inducement or reward, while Panday and his wife were charged with corruptly receiving the money.
It was a busy day for the police, court officials, and the magistrate, as the four accused persons made separate appearances. John, Panday and Galbaransingh appeared before Senior Magistrate Ejenny Espinet in the Port-of-Spain First Court, and were remanded to June 7.
Oma Panday reached the court too late to appear before a magistrate. She appeared before a Justice of the Peace who ordered that she appear before a magistrate this morning.
The Anti-Corruption Bureau on Henry Street, Port-of-Spain, was a bee hive of activity yesterday. There was high expectancy as months of investigations by acting Insp John Telesford had come to an end.
Carlos John, a former minister of works in the UNC Government and TIDCO Chairman, arrived at the bureau with his attorney Sophia Chote at 10.40 am. The laying of the charge did not take long as John was escorted to court for an appearance before the magistrate at 11.48 am.
The arresting officer was not in court. Chote said she was informed by Senior Supt Maurice Piggott (head of the bureau) that Telesford was on enquiries and could not attend court. The magistrate said she did not appreciate information on a complainant coming from the defence.
The police prosecutor said she spoke with Piggott that morning, but had no information on the complainant.
Espinet said she looked at Johnís bail and saw no reason to adjust it. The former minister was granted $750,000 bail with a surety which he accepted. He was subsequently released. He told reporters that he was innocent and left everything in Godís hands.
Next in court was Panday. He made his grand appearance at 2.02 pm with attorney Prakash Ramadhar. He was held at the Opposition Leaderís Office on Charles Street, Port-of-Spain, by members of the Anti-Corruption Bureau and taken to their office to be processed.
With Panday in court, his supporters started arriving ó Wade Mark, Ken Emrith, Manohar Ramsaran, Robin Montano, Jennifer Jones-Kernahan, Chandresh Sharma, Sadiq Baksh, Roy Augustus, and FIFA vice-president Jack Warner.
While Ramadhar was seated at the bar table, Panday appeared before Espinet, who read the charge. In response, Panday said, "I am unrepresented, I am not going to get an attorney, I will represent myself throughout these proceedings."
The magistrate said $750,000 bail was fixed and she adjourned the matter to June 7. Panday went downstairs and everyone thought he was going to be processed. Instead, word soon came that the Opposition Leader decided not to secure bail, and go to jail.
As Ramsaran put it, "When Mr Panday makes up his mind, it is hard to convince him to change that."
Meanwhile, Galbaransingh, who was one of the accused in the Piarco Inquiry, was held by police in court and taken to the Anti-Corruption Bureau to be processed. He returned to the court with his attorney Rajiv Persad and appeared before Espinet. The charge was laid and bail was fixed in the sum of $1 million.
Galbaransingh later hustled out of court after securing bail.
Oma Panday was the last to arrive. She was accompanied to the bureau by attorney and Member of Parliament Kamla Persad-Bissessar. However, there was no magistrate in the building, so she had to appear before the Justice of the Peace.
She was able to secure her $750,000 bail and left the court building after 5 pm, Oma will have to appear before Magistrate Espinet this morning.
A small crowd gathered outside the court when word spread that Panday preferred to spend the night in jail, but the prison vans left without the former prime minister. A police car assigned to the Anti-Corruption Bureau, reversed in the court yard. A smiling Panday emerged, with one hand in the air. When asked how he felt, the exuberant Panday replied, "Didnít we all expect this."
He was then carted off to the Port-of-Spain State Prison where he spent last night in the infirmary section of the prison.
CHARGES
CARLOS JOHN and ISHWAR GALBARANSINGH:
On or about the 24th of December 1998, in the island of Trinidad and Tobago and elsewhere, being an agent, did corruptly give the sum of 25,000 pounds sterling to Basdeo Panday, an agent, as an inducement or reward for the said Basdeo Panday favouring or forbearing to disfavour the interest of Northern Construction Ltd in relation to its principal business, namely Construction Package 3 at the new terminal development project at Piarco Airport, a matter in which a public body, namely the Airports Authority of Trinidad and Tobago was concerned, contrary to Section 4 (b) of the Prevention of Corruption Act Number 11 of 1987.
BASDEO PANDAY and OMA PANDAY:
On the 30 of December 1998, did corruptly receive from Carlos John and Ishwar Galbaransingh the sum of 25,000 pounds sterling as an inducement or reward in relation to Construction Package 3 of the new terminal development project at Piarco Airport, a matter in which a public body, namely the Airports Authority of Trinidad and Tobago was concerned, contrary to Section 4 (b) of the Prevention of Corruption Act Number 11 of 1987.
Reprinted from:
http://www.newsday.co.tt/stories.php?article_id=26793