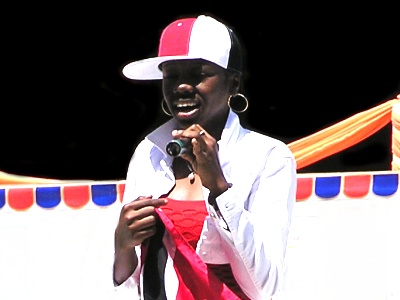 Jermeeka Mundy during her winning performance
By Melissa Wong, www.newsday.co.tt
IT WAS an awesome Friday for 17-year-old Jermeeka Mundy of Tranquillity Government Sec-ondary School, who sang her way to cop the 2005 Junior Soca Monarch title at the Queen's Park Savannah yesterday with a superb performance of "No matter what." Decked out in matching white denim jacket and jeans, Mundy gave one of the most energetic stage performances and had full control of her "Tranquil posse." Mundy's song challenged the criminals in the country, telling them that no matter what, they would not keep TT culture down. "Its all about unity," said Mundy.
Mundy told Newsday she was in shock at the results after experiencing "mike" problems early in her presentation. Mundy, who was first on stage, experienced difficulties with a faulty microphone, which almost ruined her performance. As she belted out her first note, a loud buzzing sound came from the microphone which immediately stopped the accompanying band from playing. Students from the Tranquillity Government Sec-ondary School were outraged by the glitch, and demanded to know what was happening. Despite the problem, Mundy gracefully returned to the stage and proclaimed, "No matter what, I'll sing my song today. I prayed a lot. Through God's strength, I was able to succeed," said Mundy.
Mundy said she was able to make the semi-finals of the International Soca Monarch competition, and longed to perform with her idol, Bunji Garlin. "I would do anything to meet him in person, he is my inspiration," said Mundy. Last year's winner, Orlando Octave of Rio Claro High School, was a hot number as he had throngs of girls screaming uncontrollably for his song "TNT." Octave was adjudged second place winner with a huge stage presentation depicting local heroes Brian Lara, Dwight Yorke and George Bovell III.
In third position was Nesta Boxill of Fatima College, who performed "Cool meh down" in a stunning pink florescent sequinned suit and matching pink shoes. During his performance, his back up dancers had to cool him down by spraying him with bottles of water. The overall atmosphere of the competition was quite entertaining, with generally good behaviour from the large crowd of schoolchildren. A noticeable presence of police officers kept the peace and ensured an incident-free day. Security was on hand for random searches of students entering and leaving the compound.