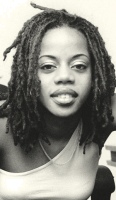 By Curtis Rampersad and Abby Defour
Bostic, 24, succumbed to her injuries at 9.30 p.m. on Sunday at the Port of Spain General Hospital.
Her death was confirmed yesterday by Corporate Communications Manager of the North West Regional Health Authority, Charmaine Codrington.
She showed small signs of recovery with medication that reduced swelling in her brain but remained unconscious and attached to an artificial breathing apparatus. She survived for more than a week before dying on Sunday night.
Full Article @ trinidadexpress.com
Culture Minister visits Bostic family
By Michael Mondezie, www.guardian.co.tt
We have not heard the last of Onika Bostic for Carnival 2005. Amidst calls by 2002 Road March winner Naya George to award her posthumously the same title next year, her brother Marvin says the family still has another unreleased track from Bostic to put on the nation's airwaves.
"I ain't too sure about that," Marvin said when told of George's request.
"I mean we appreciate the gesture, but we still have another more up- beat song from Onika to put out."
Bostic may be buried on Thursday after a funeral service at St Patrick's RC Church, Picton Street, Port-of-Spain, the day she would have celebrated her 25th birthday, her family said yesterday.
Marvin said nothing had been finalised, but the family was tentatively looking at that day to lay her to rest.
"It would be nice if we can do it on her birthday. We are looking at holding the service at St Patrick's, but we'll have to see."
Bostic died around 9 pm on Sunday, after spending just over a week in the intensive care unit of Port-of-Spain General Hospital.
She succumbed, having suffered serious cranial and spinal injuries in a five-car smash-up at the corner of Erica Street and Eastern Main Road, Laventille, on December 11.
Onika's mother Jacinta was seen sitting in the veranda of their Rosalino Street, Woodbrook home just after midday yesterday.
However, she retreated into the house on sighting a group of approaching reporters.
She returned to the veranda several moments later when Minister of Community Development and Culture Joan Yuille-Williams visited to offer her condolences.
Yuille-Williams expressed her regret for the early passing of the young singer saying:
"It really is sad, very sad."
However, no information has been released about what the minister and the Bostics discussed, or as to whether the State would offer financial assistance for Onika's funeral.
About Onika
Onika Bostic's entry into the entertainment business came in the form of a short stint in radio at Gem 93.5 FM.
While there, she attracted the attention of Antigua-based soca band Burning Flames.
She joined the band in 1998 and produced several hits with the band including; Mash It Up, Rush, Get On Bad and Devilish.
She placed fourth in the National Soca Monarch Competition in 2003 with Mash It Up and eighth in the same competition this year.
Bostic also copped several road march titles in Washington, New York and Illinois for the track Get On Bad which was a collaboration with Bunji Garlin.
©2003-2004 Trinidad Publishing Company Limited