Hurricane Ivan Advisory
National Hurricane Center Miami Fl
5 AM AST FRI SEP 10 2004
Updated regularly: Satellite image of Hurricane Ivan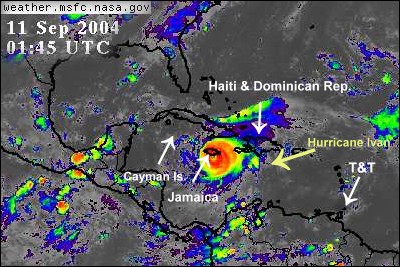 ...Powerful Ivan heads toward Jamaica...
A hurricane warning remains in effect for Jamaica and the Cayman Islands.
A hurricane watch and a tropical storm warning remain in effect for the entire southwest peninsula of Haiti from the border of the Dominican Republic westward...Including Port au Prince.
A hurricane watch and a tropical storm warning are in effect for the Dominican Republic from Barahona to Perdenales. A tropical storm watch remains in effect for the southwestern coast of the Dominican Republic from Palenque westward to Parahona.
A hurricane watch is in effect for central and eastern Cuba from Matanzas eastward. Tropical storm or hurricane warnings may be required for portions of southeastern Cuba later this morning.
Interests in central and western Caribbean sea should closely monitor the progress of dangerous hurricane Ivan.
At 5 am AST...0900z...The center of hurricane Ivan was located near latitude 15.9 north...Longitude 74.2 west or about 225 miles... 360 km...Southeast of Kingston Jamaica.
Ivan is moving toward the west-northwest near 13 mph...20 km/hr...And this motion is expected to bring the center of Ivan to near Jamaica tonight.
Maximum sustained winds are near 145 mph...230 km/hr...With higher gusts. Fluctuations in intensity are likely and Ivan could become even stronger as it nears Jamaica.
Hurricane force winds extend outward up to 50 miles... 85 km... From the center...And tropical storm force winds extend outward up to 175 miles...280 km.
The estimated minimum central pressure is 930 mb...27.46 inches.
Storm surge flooding of 5 to 8 feet above normal tide levels... Along with large and dangerous battering waves...Can be expected near the center of Ivan in the hurricane warning area.
Rainfall amounts of 6 to 10 inches...Possibly causing life-threatening flash floods and mud slides...Can be expected along the path of Ivan.
Repeating the 5 am AST position...15.9 n... 74.2 w. Movement toward...West-northwest near 13 mph. Maximum sustained winds...145 mph. Minimum central pressure... 930 mb.
For storm information specific to your area...Please monitor products issued by your local weather office.
An intermediate advisory will be issued by the national hurricane center at 8 am AST followed by the next complete advisory at 11 am AST.