UPDATE: August 20, 2007 – 8:35 AM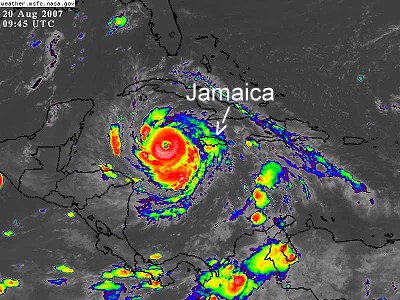 Hurricane Dean lashes Jamaica
KINGSTON, JAMAICA: Hurricane Dean pummelled Jamaica with gusting winds and torrential rains yesterday after the prime minister made a last minute plea for residents to abandon their homes and head for shelter. Many residents ignored the call, however, while tourists holed up in resorts with hurricane-proof walls.
Hurricane Dean Heads to Yucatan After Hitting Jamaica
The Cayman Islands may be spared Hurricane Dean's 150 mile-per-hour winds as the storm heads toward Mexico's Yucatan Peninsula after battering Jamaica.
Jamaica devastated by Hurricane Dean
Residents in Jamaica were today faced with the devastation caused by Hurricane Dean.
Dean batters Jamaica but worst 'still to come
Jamaica received a severe battering from the first hurricane of the Atlantic season but appeared to have escaped the worst after Hurricane Dean whipped past the island's southern coast overnight.
The storm hit Kingston, the Jamaican capital, with winds of up to 150mph, downing power lines, ripping off roofs and blocking roads with debris before spiralling off into the Caribbean in the early hours.
But the only casualty appeared to be a man reported missing after falling trees crushed his house and there were no reports of any injury to the thousands of foreign holidaymakers on the island.
Caymans brace as Hurricane Dean nears
Hurricane Dean plows into Jamaica
Hurricane DEAN pummelled Jamaica with gusting winds and torrential rains yesterday, after Prime Minister Portia Simpson Miller made a last-minute plea for residents to abandon their homes and head for shelter…
Trinidad and Tobago Govt pledges to help
As Hurricane Dean crashed into Jamaica yesterday, Trinidadians living in that country were bracing for the worst while Government assured that a helping hand would be extended to the Caribbean neighbour.
Continue reading Hurricane Dean News Update →