By Stephen Kangal
February 04, 2017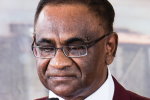 After two presiding officers of the The Parliament had twice previously turned down Opposition -introduced adjournment motions classifying the current crime pandemic holding all T&T to ransom and under siege as a definite and urgent matter (DMUPI) that has evoked widespread and enormous public concern and exponentially increasing outcry, it was devastating and politically incorrect to hear The Honourable Speaker of the House, Mrs Brigid Annisette-George once again, on Friday , without convincing but artificial rhyme or reason, deny an urgent motion on the current murder rate moved by the MP for Pointe-a-Pierre, Dr. David Lee.

The fact that there is a private motion on this subject due for debate in some two months does not invalidate nor negate the prevailing urgency of addressing the crime pandemic in the highest forum of the land. Is the House telegraphing to all of us that it cannot allocate 60 minutes of its time to focus on the unprecedented inhumane carnage that has reduced T&T to a killing field?
How insensitive is the House to the ubiquitous grief, trauma and agony being borne and suffered by parents, loved ones and all T&T from so many young lives in their prime being prematurely snuffed out! The Parliament cannot accord even a cosmetic signal and indication of its empathy and concern by including the issue of the 58 murders committed so far in 34 days in its Agenda via a 60-minute DMUPI Motion.
But FATCA that is exclusively the business of the US can commandeer months of Parliamentary time while the loss of so many precious lives of the young and promising, according to the reasoning of the Speaker, does not qualify to be regarded as definite, urgent and of widespread public importance even though the front pages of the three dailies and the prime news of the three television channels are daily and incrementally littered and emblazoned with corpses, bloodshed and omnipresent undertakers.
The hat-trick denial of motions (DMUPI) on the crime pandemic by The Two Presiding Officers of Parliament is a blatant miscarriage of justice and arbitrary exercise of exclusive powers over the business of Parliament.