By Rhondor Dowlat
August 27, 2016 – guardian.co.tt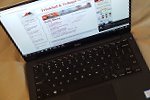 Pupils who will be entering Form One in secondary schools in the new school term, which opens on September 5, will face disappointment as they will not be receiving free personal laptops from the Government.
Instead, the Government, in revamping the laptop distribution programme, will seek to equip 50 high-quality laptops per school.

This was yesterday revealed by Education Minister Anthony Garcia during a press conference at the Ministry of Education, in St Clair.
Garcia said that the new policy was a major departure from the practice of the former government—the People's Partnership government—which a study conducted showed was wasteful and counter-productive.
Full Article : guardian.co.tt