By Raffique Shah
September 02, 2012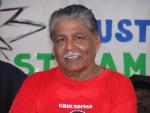 PATRIOTISM. I have seen and heard this word used, misused and abused so much over the past few weeks, I felt like retiring as a patriot, surely an oxymoron that would have reduced me to a moron. Patriots, like revolutionaries, racists or bigots of any shade or persuasion, cannot resign or retire or even change. Either you are, or you are not.

Recently, when gold medallist Keshorn Walcott returned from the London Olympics to a hero's welcome, the politicians and pundits proclaimed that the effervescence displayed by the people who thronged the airport and lined the streets to hail the athlete as a grand display of patriotism. I disagree with that notion. I think that while many among the masses were there because of national pride, many more indulged in the fete-like atmosphere, the pounding soca music, not to add the trinkets thrown their way, javelin style, by the Prime Minister.
Let me put this patriotism thing another way. If young Walcott had failed to win a medal at the Games, would he have won one-hundredth the accolades he eventually got? I venture to say that no one would have noticed or noted him. Even the Government would have ignored him. Indeed, amidst the political circus that passed for patriotism, the Government and madding crowd forgot or ignored other Olympians who returned on the same flight.
But you know what? That boy merited praise for merely making it to the Olympics at age 19, whether or not he won a medal. Sure, everyone loves a winner. True patriots, however, love every national who does his or her best for country, in whatever endeavour. Patriotism is an innate quality etched so deeply in one's soul, it's larger than life and it stays with you for a lifetime and beyond.
Patriotism cannot be partisan or part time: my party is in power today, so I fly the biggest national flag to commemorate 50 years of Independence. I would even add a few faces on the flag for patriotic effect. But my party is out of power so I don't give a flying fig if the anniversary of Independence falls on Christmas Day, I'm not celebrating. That, my friends, is a good example of what passes for patriotism in this country.
I have lived long enough to experience four parties in power, and noted vulgar partisan patriotism. On Independence Day, I was probably the only person for miles around me who was not flying a national flag on my house or my car. And frankly, I don't give a damn about what anyone thinks about me not making an effort to mark the 50th anniversary with symbols: I do it in spirit. I am no part-time lover of my country, and anyone who knows anything about me can attest to that. People who fly a flag conveniently sicken me.
I was just 16 years old when this country gained Independence. Before the big day, I had learned the national anthem "by heart", and sang it lustily. I used to whistle the tune as I rode my bicycle in the village. On Independence Day, I was a cadet in uniform, posted somewhere near the Red House on Abercromby Street with my colleagues from the Presentation (Chaguanas) Unit.
Do you think it mattered to me that Dr Eric Williams was the Prime Minister, or that the PNM was in power? I couldn't care less—not about Eric or Bhadase Maharaj or Rudy Capildeo or any of the politicians. It was my country, and that is what was uppermost in my mind. I did not quite understand the ramifications of independence, but I saw it as a progressive step. Later, when I became a soldier, my patriotism ran deeper in my veins, so much so that when I felt my people's rights were under attack, I initiated drastic action that many people felt was decidedly unpatriotic.
I saw my actions then as a test of my patriotism. You see, the grey area here brings us back to the question, what really is patriotism? In my view it is loyalty to, and pride in, one's country. It cannot be loyalty to any political leader even if that person is Prime Minister or President. It's worse when blind loyalty or sycophancy is equated with patriotism. Political leaders, after all, are mere human beings with all of man's weaknesses. So often their supporters discover that they have feet of clay, mostly after they have done irreparable damage to their reputations and their parties.
If only people would put country before party or leader, the disaster that befell Patrick Manning in his maniacal final years might never have happened. Instead, the sycophants vociferously defended his descent into the abyss. Today, no one even remembers their names, and Patrick is remembered only because of our human compassion for his infirmity.
Today, too, we are witnessing another descent into hell. And once more, no one listens to voices in the wilderness crying out for the leaders to stop the madness. Like scoundrels, they take refuge behind the fig leaf of what passes for patriotism, confident that they would benefit from good fortune—a golden jubilee, a gold medal, or even better, a huge discovery of black gold. Maybe they would enjoy luck. Eric Williams had resigned in 1973 when the price of oil spiked and he returned to enjoy another eight bountiful years as Prime Minister.
But Gopaul's luck is not necessarily Seepaul's. Money could always run low or run out. True patriotism, however, is always there, pumping like adrenalin through veins and arteries, outwardly invisible, but inwardly stirring mind body and spirit to heights that never lower. That is the "high" we ought to aim for. True patriotism will never let us down, in good times—or bad.