By Raffique Shah
January 05, 2021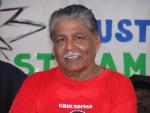 Friends, Trinbagonians, countrymen, lend me your attention. I have decided to say here what I believe needs to be said at this perilous time in our nation's history.
I have no desire to bury my country amidst the ruins of the Covid-19 pandemic and the punishing economic fallouts the virus has dealt us, which added misery to the politically-inflicted wounds. To the contrary, my hope is that many among you will heed my plea from the heart and rally to help save T&T. Let it not be said that in its hour of need, when this country stood at critical crossroads, crying out for help, for direction, that noble and patriotic citizens deserted the sinking ship of state like rats, seeking only to save their wretched lives and the loot they have stolen.

No. I'd sooner give up the ghost than shirk my responsibility to speak out or write as I see it when my country's future is at stake. And verily I say unto you that while the path ahead of us is strewn with obstacles and we need to be extremely cautious, ours is not a failed state, not a nation teetering on the brink of disaster. However, be warned that time is against us. In the new year, indeed, in the decade ahead, we do not have the luxury of time to waste on sterile debate and pointless political arguments. Almost every government that has held the reins of power over the past 50 years has, by abdicating its responsibility to govern wisely and in the best interests of the nation, wavered and cowered, seeing only as far as the next election, limiting its vision to a narrow five-year time-frame.
Well, in 2021, time has run out. Time is an unforgiving element or entity, or whatever you choose to label it. We have made the mess we are mired in, so we must now clean it. We cannot buy time, as politicians think they do when they seek to postpone inevitable policy decisions. Time is not for sale. I repeat for emphasis, time has run out.
So, where do we start? We must take the Covid-19 battle to its conclusion, setting in train a workable vaccination programme that will ensure its speedy deployment once we acquire it. We see the shortfalls in other countries that are more developed than ours, so we can plan accordingly. Our team has acquitted itself admirably thus far, so we can safely assume that it will be capable of taking us into the post-Covid safety zone.
I stress this first objective because it is critical to everything else we must do to put the country back to work. By the second quarter of this year, workers should be back on their jobs, schools should be up and running and the country should be shaking off Covid fatigue, even as we continue with the safety protocols that seem destined to be part of the new normal. Well before that, the Government must decide on the future of the Petrotrin oil refinery. I understand the complexities of confidentiality in negotiations of that nature, but too much is at stake to keep the people, who are ultimately its owners, in the dark, quite literally.
I was among the few scribes who supported the Government's decision in 2018 to shut down Petrotrin and comprehensively restructure its operations, that in the face of unsustainable losses on a daily basis. Now I need to know why the refinery operations have not resumed under a new arrangement. Because if the Government and the OWTU continue to twiddle their thumbs and say and do nothing, we, the people, will pay the ultimate price.
So tell us, like yesterday: will the refinery be sold to Patriotic/OWTU as a refinery that will resume operations, say, within a year? Or will it be sold as scrap to the buyers of "scrap iron and old batteries"?
The fate of the refinery is important because whatever you may hear or read to the contrary, oil, gas and petrochemicals will continue to be important to the national economy for at least the next 30 years—a whole generation. Those who casually dismiss this country's energy sector as past tense are either "drunk or dey staring mad", to paraphrase calypsonian Sniper, or more aptly, in my view, they're ignorant.
To paraphrase another patriot of our past, CLR James, "what do they know of oil and gas who only oil and gas know"?
Yes, technology is taking mankind into new, hitherto unimaginable realms. 5G is real, it's here, and it will change how the world interacts and communicates like nothing we have known. Ever. But will the most powerful nations on earth dismiss proven reserves of 1.7 trillion barrels of crude oil and a similar volume of natural gas, barrels of oil equivalent?
I don't think so. And I don't think we in T&T, as pioneers in petrochemicals, should surrender our energy seniority just so. I shall return to this topic next week.